Cairo & Assiut, Egypt—Amideast/Egypt and the Sawiris Foundation for Social Development were pleased today to launch the Sawiris Linkage Scholarship for Upper Egypt, a new program that seeks to help underserved youth from Assiut gain admissions to top U.S. universities.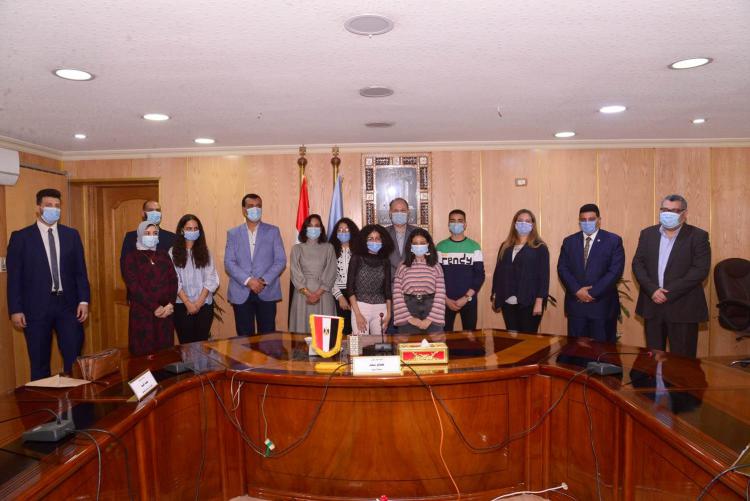 The launch ceremony, which was held in Assiut, was an occasion to celebrate the selection of 40 students for the new program. It was attended by Mr. Mohamed Wehedy of the Ministry of Social Solidarity; Dr. Mohamed El Sayed, deputy director of the Ministry of Education; Ms. Mays Abou Hegab, director of the Sawiris Foundation for Social Development Education and Scholarship Director; and Ms. Shahinaz Ahmed, Amideast's country director for Egypt.  Three of the students — Tarek Kamel, Merna Salah and Hala Mohamed — gave speeches about the thrill of being selected for the program and their expectations for an exciting future.
"We are excited to be supporting this group of young women and men, with the support of the Sawiris Foundation on Social Development, on their journey to success. At Amideast, we specialize in delivering effective college advising services and scholarship administration support to youth in search of quality education opportunities. Through the Sawiris Linkage Scholarship program, students will learn the English language and new skills, knowledge, and expertise to navigate the U.S. admissions process and prepare for financial aid applications to U.S. universities," said Ms. Ahmed, Amideast/Egypt's country director.
The Sawiris Linkage Scholarship program aims to establish an Assiut College Club that provides Egyptian youth with a dynamic combination of English language training, character building, testing support, and personalized academic advising services for high-potential Egyptian youth. The Sawiris Linkage Scholarship for Upper Egypt is supported by the Sawiris Foundation for Social Development and administered by Amideast through a grant worth EGP 7,000,000 targeting underserved youth in Assiut.
The Sawiris Foundation for Social Development (SFSD) was established in 2001 with an endowment from the Sawiris Family as one of the first national donor foundations in Egypt. Since its establishment, SFSD has focused on addressing the most pressing issues facing the most marginalized Egyptians such as poverty, unemployment, provision of health services and little access to quality education. Over the past 19 years, SFSD has succeeded in funding and delivering programs aimed at achieving comprehensive and sustainable development, in partnership with the governmental and private sectors, as well as civil society. This has resulted in the creation of thousands of job opportunities, availing quality education, and providing access to basic services for more than 313,000 beneficiaries. The geographical coverage of the foundation includes 24 governorates, with a focus on the most remote marginalized villages. The total budget allocated by the foundation since its inception is approximately EGP 1.4 billion.
Amideast has operated continuously in Egypt for over 60 years. With main offices in Cairo and Alexandria. Amideast Egypt provides English language courses, professional skills training, testing services, and scholarship services for youth and adults throughout the country. For more information, visit https://www.amideast.org/egypt
FOR MEDIA INQUIRIES IN EGYPT, CONTACT: