AMIDEAST and the Al-Aman Fund for the Future of Orphans (AAF) are pleased to announce the expansion of their long-term strategic partnership. Under an agreement signed on August 26 in Amman, the organizations will expand their cooperation on the implementation of initiatives and programs that develop leadership and innovation among Jordanian youth, specifically AAF's youth, and thereby contribute to economic growth in Jordan.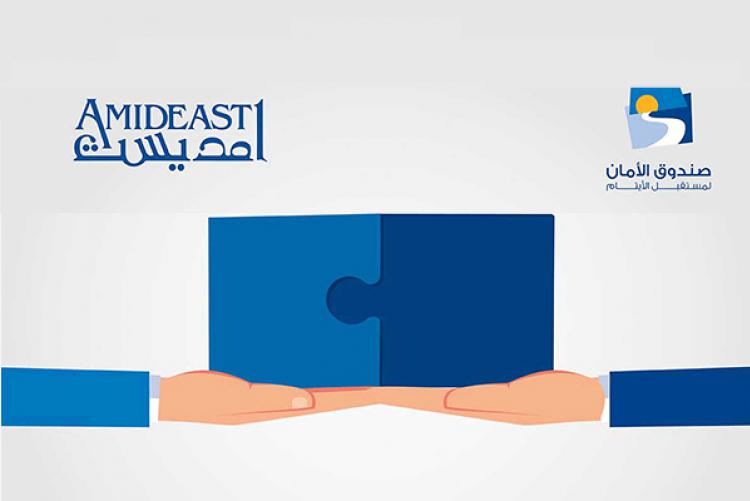 In addition, AMIDEAST and AAF will develop a framework for a network of partners and supporting entities from civil society and the public and private sectors, with the aim of identifying and implementing the best programs that serve Jordanian youth.
Under the agreement, AMIDEAST will also give priority to AAF youth seeking to join AMIDEAST programs and courses that develop the career readiness and capacity of youth, thereby expanding their opportunity in life by helping them to become self-reliant and to have the skills necessary to enter the labor market.
The general manager of Al-Aman Fund, Ms. Noor Homoud, pointed out the necessity of matching the educational content provided to the Jordanian youth, whether academic or vocational, with the current and future labor market needs, in order to contribute to the reduction of unemployment and advance socioeconomic development. Ms. Homoud expressed her belief in the positive impact that will arise from implementing these programs on AAF youth and Jordanian youth as a whole.
Launched in 2003 at the initiative of Her Majesty, Queen Rania Al-Abdullah, Al-Aman Fund works on supporting orphaned youth in Jordan by providing academic and vocational education, as well as several self-development, capacity building and livelihood support in order to enable them to become productive, positive and capable of creating sustainable livelihoods.
AMIDEAST/Jordan's country director, Ms. Nour Alrasheed, emphasized the importance of AMIDEAST's partnership with Al-Aman Fund in ensuring impactful programs and initiatives that aim at supporting youth innovation and capacity building.
AMIDEAST is a key pillar in the educational and cultural scene in Jordan. For over 55 years since the establishment of its office in Amman in 1956, AMIDEAST has actively worked with the Jordanian people and government to define, identify, and improve educational practical solutions for Jordanians.