The COVID-19 crisis intervened midway through the spring 2020 semester to bring classes and other activities to a halt for the students enrolled in AMIDEAST's Area and Arabic Studies Programs in Jordan and Morocco. But not all was lost for these students, most of whom returned to the United States. Within two weeks of the end of onsite programming, courses resumed online, hosted on AMIDEAST's e-learning platform AMIDEAST Online, and the students were able to complete their full complement of intended credits. Moreover, the move to an online format paves the way to enabling a broader, more diverse audience to have a meaningful study abroad experience.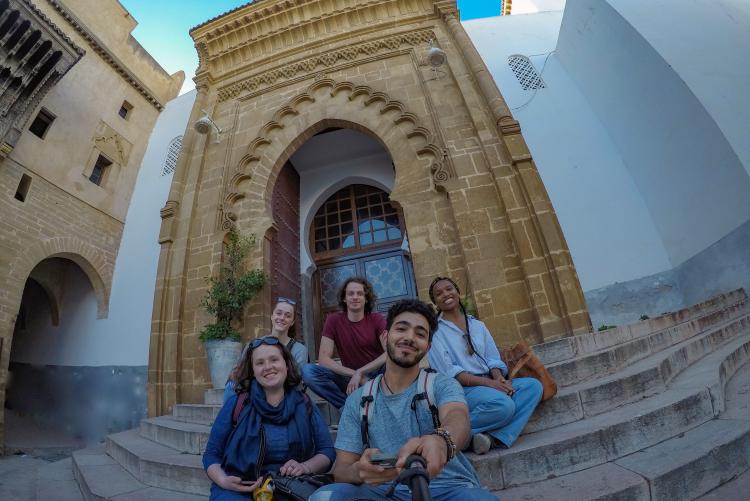 Recognizing the unlikelihood of onsite education abroad programs in the fall, AMIDEAST moved to develop its new Virtual Learning and Cultural Exchange program, which unites faculty, staff, guest speakers, artists, and host communities from Morocco, Tunisia, Egypt, and Jordan. Faculty and staff have spent the summer engaged in a collaborative workshop to apply best practices in adapting their courses to a hybrid model that can be delivered entirely online in fall 2020, thereafter accommodating students enrolled in both the onsite and virtual environments.
The inaugural virtual semester launched in late August, with each course adhering to strict guidelines for synchronous and asynchronous work and the inclusion of youth from local host communities in facilitated cultural exchange involving problem- or project-based work. Opportunities for intercultural learning are woven into the framework of the program, and local experts will provide co-curricular learning opportunities and activities for students. Students interested in enrolling in the courses may currently do so for spring semester.
AMIDEAST also engages this moment to address issues of equity in higher education as they specifically impact the field of education abroad. Virtual Learning and Cultural Exchange enables participants to enroll in one or more individual courses up to 11 credits. Community college and tribal college and university students may enroll at a significantly discounted rate per credit. All other participants may enroll at the published per-credit rate of their home institutions.
AMIDEAST Education Abroad host countries offer unparalleled opportunities for learning, yet they are among the least engaged by U.S. study abroad students. AMIDEAST has been facilitating opportunities for U.S. and MENA region students to learn from one another for nearly 70 years. With the Virtual Learning and Cultural Exchange program, AMIDEAST looks forward to enabling a greater diversity of participants from many different kinds of institutions to benefit from a study abroad experience, and to continue its long-held mission of fostering mutual understanding between study abroad participants and host communities. We want to serve as a ready case study in the field for hybrid learning spaces in study abroad, for new models of enrollment and pricing, for promoting the idea that the United States has much to learn — with humility — from the Global South, and for conducting study abroad in a world forever changed by what the events of 2020 have highlighted as necessary and possible.