AMIDEAST and the Citi Foundation are pleased to mark completion of the first Skills for Success® Employability Program, a year-long partnership in Riyadh, Saudi Arabia for 54 young Saudi women.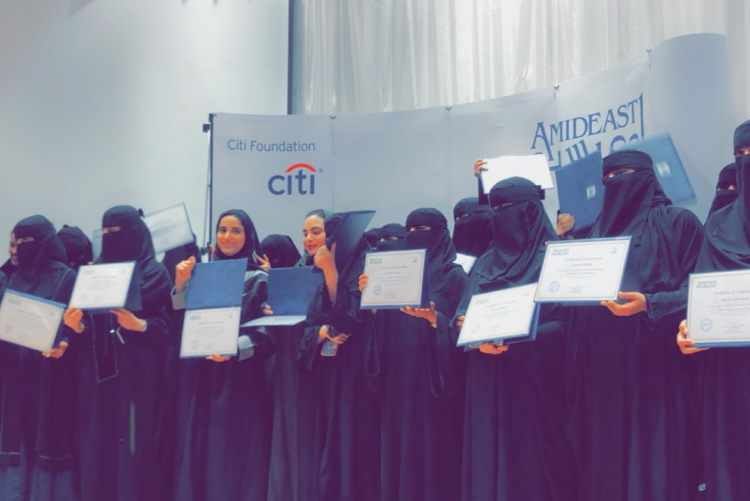 The program, part of the Citi Foundation's Global Pathways to Progress Initiative and a larger grant that also features AMIDEAST-implemented programs in Egypt and the UAE, has focused on preparing a new generation of Saudi youth to enter and succeed in today's job market by helping them develop skills critical for workplace success.
"AMIDEAST thanks Citi Foundation for making it possible for us to offer this valuable program and help advance the economic prospects of Saudi youth, especially women, in support of Vision 2030," said AMIDEAST/Saudi Arabia Country Director Don Schmidt. "Together with Citi Foundation, we will continue to provide young Saudi men and women with the knowledge, skills, and experience they need to find meaningful jobs that match their career ambitions and lead to a better future."
In addition to the 54 women who completed the program in early March, a further 16 took part in the program but left early after securing jobs or moving—the former yet another testament to the program's success.
This program is the first of two such partnerships with the Citi Foundation in Saudi Arabia, and which collectively mark the latest in several successful collaborations in the Middle East between the two organizations. The second partnership will directly impact a core group of 54 unemployed or underemployed Saudi university graduates of both genders. Both the cohort that just finished program and the cohort just beginning advance the employment prospects of the trainees, who range in age from 20 to 28, by increasing their ability to make career choices, find meaningful jobs, and succeed in the workplace through improved skills.
The Riyadh-based participants receive 280 formal hours of personal and professional skills development, complemented by practical internships and a community-focused activity to further enhance their self-confidence and workplace readiness. Already, nearly 80 percent of the first cohort have found employment, and AMIDEAST and the Citi Foundation expect that the quality and relevance of learning in the second program will once again enable most participants to secure meaningful, sustainable employment.
"We are proud to partner again with AMIDEAST KSA and to invest in Saudi youth through this program to help enable economic resiliency and long-term competitiveness in the Kingdom," said Carmen Haddad, Chief Executive Officer, Citi Saudi Arabia. "This program has demonstrated success and we continue to work towards training the youth and promoting continued progress in the region."