On Saturday, November 19, 2022, 180 young men and women will celebrate their graduation from the STEM program, funded by Boeing and implemented by Amideast/Egypt.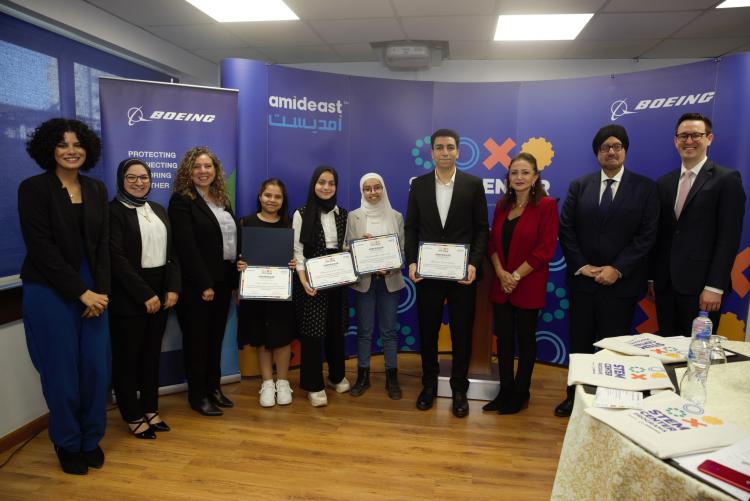 Cairo, Egypt—Launched on November 30, 2021, the STEM Center, established with generous funding from Boeing, offers diverse programs that are designed to raise student awareness of the STEM fields (science, technology, engineering, and mathematics), and equip them with knowledge and skills that will help them better respond to the changing needs of the global economy and contribute to Egypt's economic development through innovative ideas that create impact.
STEM Center students received training in LEGO® Education, robotics, graphics, animation, 3D printing, programming, Web development, and entrepreneurship focused on establishing businesses in STEM areas with a particular emphasis on climate-related innovations. These courses build student creativity and problem-solving skills in science, technology, engineering, and mathematics through experimentation and an inquiry-based learning approach.
The graduation ceremony will be held at Amideast's Cairo office. It will include remarks from Kuljit Ghata-Aura, president of Boeing, Middle East, Türkiye and Africa, and Shahinaz Ahmed, Amideast/Egypt Country Director. Several students will also speak about the impact of this program on their lives.
"We are proud to partner with Amideast/Egypt to support Egyptian youth. Boeing celebrates the inspiration and sense of accomplishment STEM programs can bring to young minds. For us, it is important to support them and ensure they have the right resources and the right development opportunities to be able to succeed and meet future market demand, particularly in the fast-growing aerospace industry," said Kuljit Ghata-Aura, president of Boeing Middle East, Türkiye and Africa (META).
"We are delighted to be graduating the first cohort of the Boeing-funded STEM programs for Egyptian youth. The students are bright young men and women interested in diverse STEM fields. The impact of this program is not measured just by what these students learned but what this means in the future: more young women learning that STEM fields are accessible, and they can build careers in nanotechnology if they choose; young entrepreneurs learning about how to develop STEM-focused businesses that address the challenges we face in today's ever-changing world; and young boys and girls learning together that science is fun. Thank you, Boeing, for making this possible," said Shahinaz Ahmed, country director of Amideast/Egypt.
About Amideast: Amideast is a leading American nonprofit organization engaged in international education, training, and development activities in the Middle East and North Africa. Amideast has operated continuously in Egypt for over 60 years. With offices in Cairo and Alexandria, Amideast/Egypt provides English language courses, professional skills training, testing services, and scholarship services for youth and adults throughout the country. For more information, visit https://www.amideast.org/egypt.
About Boeing:
As a leading global aerospace company, Boeing develops, manufactures and services commercial airplanes, defense products and space systems for customers in more than 150 countries. As a top U.S. exporter, the company leverages the talents of a global supplier base to advance economic opportunity, sustainability and community impact. Boeing's diverse team is committed to innovating for the future, leading with sustainability, and cultivating a culture based on the company's core values of safety, quality and integrity. Join our team and find your purpose at https://boeing.com/careers.