Amideast/UAE, The Boeing Company, and Pure Minds Education were pleased today to celebrate the graduation of 180 young students from our "STEM Pioneers Program," a six-month educational program designed to develop the critical thinking skills of youth in the UAE using STEM (science, technology, engineering, mathematics) concepts, with a focus on aerospace.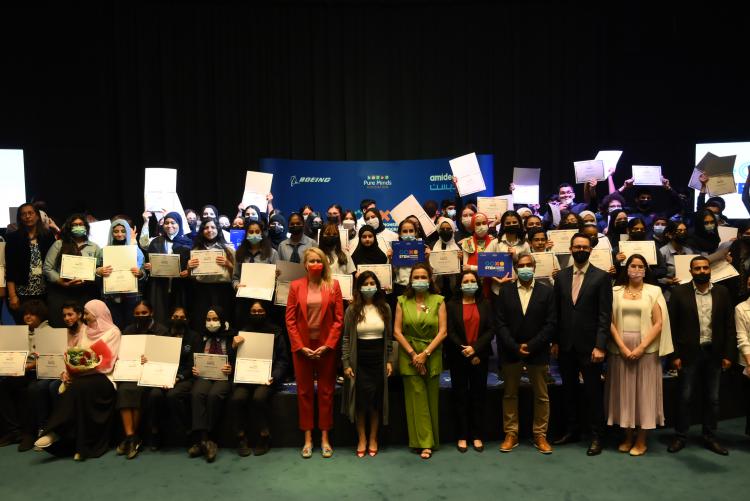 The ceremony, which was held at Knowledge Park in Dubai, also recognized 28 educators who received training in the application of the STEM activities in their schools.
The STEM Pioneers Program introduced the students, who ranged in age from 13 to 15 and come joining from five private schools in Dubai, to five aerospace challenges and engaged them in scientific learning activities that involve the design and testing of model airplanes and rockets. The activities were also designed to develop their knowledge of market demands for aerospace engineering, improve their problem-solving capabilities, and strengthen their ability to work effectively in teams.
"The STEM Pioneers Program is testament to our commitment to invest in innovative programs that advance STEM education and support the UAE's fast-growing aerospace industry," said Kuljit Ghata-Aura, president of Boeing Middle East, Türkiye and Africa (META). "Boeing celebrates the inspiration and sense of accomplishment STEM programs can bring to young minds. We are proud to champion a unique program like STEM Pioneers and thank our longstanding partners Amideast and Pure Minds Education for providing such an engaging experience."
Amideast/UAE Country Director Sara El Dallal echoed his comments in her remarks: "It has been an honor for Amideast to partner with Boeing International and Pure Minds Education on a project that supports the important STEM goals of the UAE's Advanced Science Agenda. The achievements of these young people during the course of the program speaks to the value of well-designed programs to educate this young generation to meet the challenges of the future."