AMIDEAST/Egypt and the Citi Foundation hosted Egypt's first-ever virtual Skills for Success® program graduation on Wednesday, July 1, pushing the technological envelope by using Zoom to recognize 75 graduates from this two-year employability skills program. Implemented with funding from the Citi Foundation, which also supported cohorts in the UAE and Saudi Arabia, the program has proven to be an extremely worthwhile investment in Egypt's talented young workforce.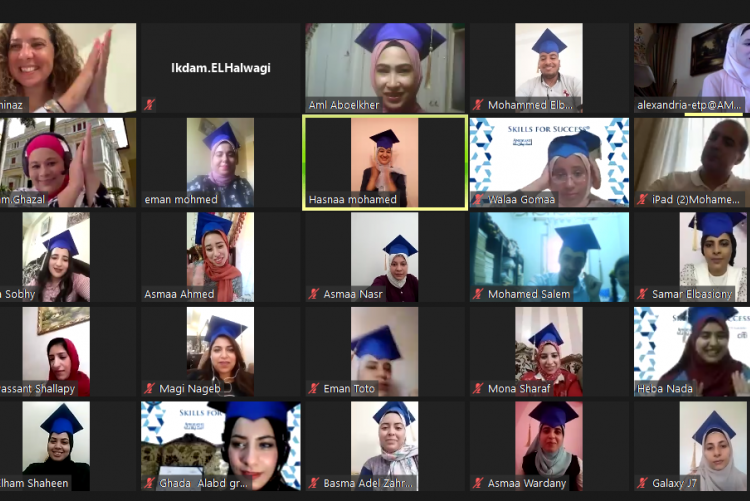 AMIDEAST's Alexandria office worked with underserved, unemployed, and underemployed university graduates from the Damanhour area to expand the program's impact beyond Egypt's major cities. The 2020 Skills for Success participants completed 280 hours of personal development and professional skills training, complemented with practical internships and mentoring. They proved to themselves, their families, and their communities that opportunities exist even in the most difficult circumstances. Since completing the program's four phases, many have secured employment despite the ongoing economic impact of the global pandemic.
The first phase consisted of intensive training to improve their English language and personal development skills. The second phase helped participants develop computer/IT and workplace skills of relevance for different sectors, something that will prove particularly important as the world economy recovers from the COVID-19 pandemic. The third phase focused on job search skills and featured monthlong internships at Egyptian partner organizations, allowing participants to build stronger resumes and gain valuable on-the-job experience. The fourth phase saw participants prepare to lead "Pay-It-Forward" workshops — a signature feature of AMIDEAST programs — for 1,000 youth in their own communities to increase awareness of self-development and career planning strategies.
"AMIDEAST has been pleased to work with the Citi Foundation on several initiatives that represent investments in Egypt's youth, with this Skills for Success® program just the latest," said Shahinaz Ahmed, AMIDEAST/Egypt Country Director. "Together, we not only prepared 75 unemployed university graduates for successful careers of their own, but also empowered them to impact the lives of hundreds of other youth in their communities through our Pay-It-Forward model, creating ripple effects felt far beyond the program itself."  
Skills for Success, one of AMIDEAST's signature programs, works with unemployed youth to prepare them for successful careers in different industries, regardless of individual economic and financial circumstances. The program focuses on passionate and driven youth from low-income communities to ensure they have the workplace, life, and critical thinking skills they need for meaningful employment opportunities. Building on the success of its workforce and entrepreneurship training, AMIDEAST/Egypt is again partnering with the Citi Foundation on an entrepreneurship-focused Skills for Success program for another 40 participants in Cairo, investing in young entrepreneurs as they launch innovative businesses and help grow the Egyptian economy.
"We are proud to partner with AMIDEAST/Egypt and to invest in Egyptian youth through this program to help enable economic resiliency and long-term competitiveness in Egypt,'' said Mohammed Abdel Kader, Chief Executive Officer at Citi Egypt. "We continue to support programs that catalyze economic growth and provide our youth with economic opportunities to thrive and promote continued progress in Egypt.''
AMIDEAST and the Citi Foundation extend our thanks to the professional trainers with whom we worked for this program, all of whom carefully guided the program's three cohorts, even with the unexpected challenges this spring. Each of the 75 Skills for Success graduates has made the Damanhour community and all of us at AMIDEAST extremely proud — and we hope they feel that same pride in their own achievements. As they begin new journeys, we welcome them to the AMIDEAST and Citi Foundation alumni families.