Amideast, a leading American educational training organization in the Middle East and North Africa, concluded the purchase today of the "American Center Alexandria," further enabling it to expand its educational and training services in Egypt's second largest city.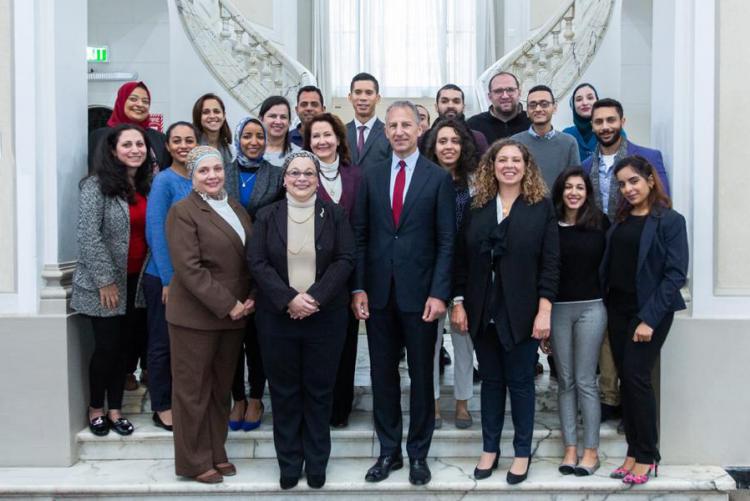 The purchase of the former home of the U.S. Consulate in Alexandria completes a process underway since September 2016, when Amideast began to rent the facility.
On Tuesday, the U.S. Ambassador to Egypt, Jonathan Cohen, visited the center, which is well known locally as an architectural gem that holds historical and cultural significance for many Alexandrians — a legacy that Amideast is committed to honoring by preserving its structural integrity and respecting its importance to the community.
Shahinaz Ahmed, Amideast's Country Director for Egypt, said, "This is an important moment in our continuous commitment to serving Egypt and its people since 1956 and Alexandria for over 35 years. We are pleased to have a permanent home in Alexandria, as this will enable us to serve more people, more effectively as we strive to expand opportunities and positively impact the lives of Egyptians, especially youth. We are particularly excited about prospects for expanding programs in workforce development, English language acquisition, and English language assessments such as the TOEFL ITP® and TOEIC®."
Amideast President and CEO Theodore Kattouf said, "This is the latest step in our long-range plan to expand and update our facilities in the 11 countries that we directly serve across the MENA region. The opportunity to acquire this historic property in Alexandria underscores our longstanding commitment to providing quality educational and training programs in Egypt."
The facility features classroom and meeting spaces equipped with Internet and the latest audiovisual technologies. It also houses a Prometric® testing center offering a wide range of academic and professional tests, which will enable our testing services in Alexandria — already extensive for both academic and professional purposes — to serve more test takers and work with ETS and other test developers to support local institutions and individuals seeking to assess skills, gain a competitive edge, and succeed in today's global economy.
The building's large space has also allowed Amideast to expand its English language programming in Alexandria to meet the needs of governmental, nongovernmental, and private sector clients as well as the general public. Courses offered include English for General Communication, Conversation, English for the Workplace, and English for Kids and Teens.
Amideast looks forward to continuing to expand impactful educational services in Alexandria.