AMIDEAST recently assumed responsibility for the Hope Fund Program, ensuring that its mission of expanding higher educational opportunity for Palestinian youth will survive and thrive in years to come. AMIDEAST is no newcomer to the Hope Fund, the organization that has helped nearly 100 students receive scholarships for undergraduate study in the United States since it was started in 2000 by Palestinian scholar Fahim Qubain and his wife Nancy. AMIDEAST served as its key in-region partner, assisting with the selection of students and their preparation to apply for scholarships,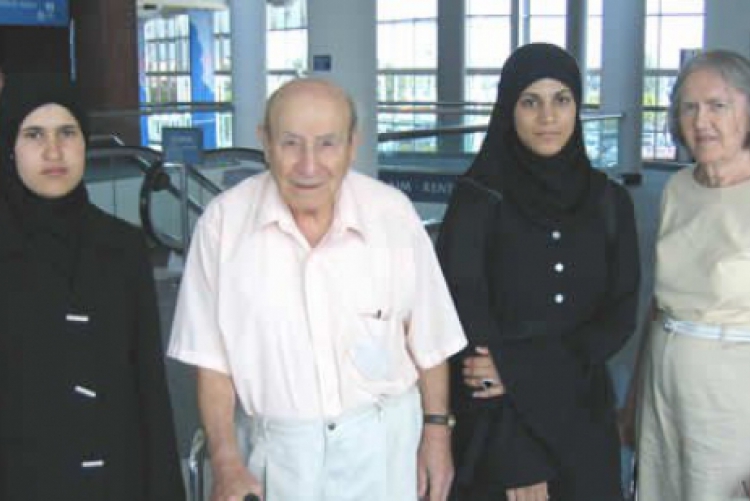 AMIDEAST now takes on the added task of applying on behalf of qualified students for admission and scholarships and meeting their remaining financial needs. The Hope Fund Program, in fact, uses the same formula as the Diana Kamal Scholarship Search Fund (DKSSF), an AMIDEAST initiative established in 2007 to open doors to undergraduate education for deserving Arab youth. Like the Hope Fund Program, the DKSSF succeeds by matching youth with scholarships offered by U.S. institutions.
This change follows the Hope Fund's recent decision to dissolve, with its essential functions transferred to AMIDEAST. In addition to assuming the Hope Fund's operations going forward, AMIDEAST takes on responsibility for 45 Palestinian youths currently in their undergraduate programs and five new students awarded scholarships for studies beginning in fall 2015.
"The Hope Fund would not have happened without Dr. Fahim Qubain's vision, will, and selfless service. In the days and years ahead, those of us involved with the Hope Fund Program will always hear his voice urging us to do even more and to do it better," AMIDEAST President and CEO Theodore H. Kattouf said of the legacy of Dr. Qubain, who founded the Hope Fund with his wife Nancy. "We take on this responsibility fully committed to continuing his legacy and realizing his dream."
The success of the Hope Fund Program depends on the support of donors. Learn how you can help!
Nearly 100 Palestinian students have received scholarships for study in the United States through the Hope Fund Program. To date, 44 have received their undergraduate degrees. Some of our distinguished alumni include:
Manal Zaher graduated from Bryn Mawr College, becoming one of the youngest women from her refugee camp in Lebanon's Bekaa Valley to earn an undergraduate degree abroad. She is currently back at the camp, inspiring the young learners in her fourth grade mathematics class.
Iman Abu Aitah lost both of her parents and two brothers during Israel's assault on Gaza in summer 2014, while she was in the U.S. The determined young woman completed bachelor's degrees in English and biology summa cum laude in three years, so that she could return to her family in Gaza. She hopes to launch a nonprofit organization designed to build self-esteem and a sense of empowerment and civic involvement among children and youth and aspires to pursue a law degree in the long term.
Hiba Assi, a Palestinian refugee from Lebanon, graduated summa cum laude in 2010 with a B.S. in physics and mathematics and is pursuing her Ph.D. in theoretical physics at Virginia Tech. "Graduating with the Ph.D. degree in my hand … would pave the way to having a better future for my family and fulfilling my dream of making a difference in the world."
Samer Anabtawi from the West Bank was the valedictorian of his graduating class at Illinois College in 2012. After receiving his M.A. from the University of Chicago, he is now pursuing his Ph.D. at George Washington University. "[Dr. Qubain] gave me that once-in-a-lifetime opportunity that has transformed my life."
Minna Al Barqi from Gaza graduated from Hollins University in 2015 and will start the biomedical sciences graduate program at the University of Massachusetts Medical School in fall 2015. She hopes to one day return home but "my goal right now is to train myself first in order to be able to contribute… Back home, school is very important because it's the only way you can survive."