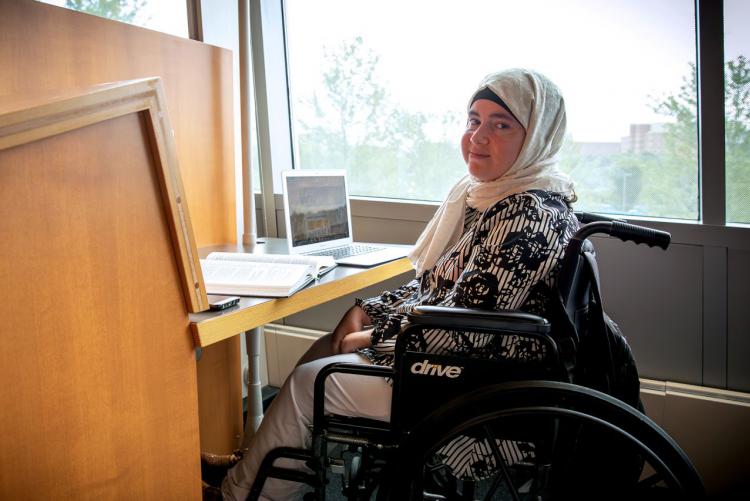 UNIVERSITY PARK, Pa. – Growing up in Gaza under near-constant warfare and severe restrictions on border crossings, Haneen Shaath never had the opportunity to travel the world as she always wanted to. That all changed when she received a scholarship through the Fulbright Foreign Student Program, an award that enabled her to enroll in a master's program at the Penn State School of International Affairs (SIA) in fall 2022.
At SIA, Shaath chose a concentration in international public policy as well as a customized concentration in refugee rights. Now entering her second and final year in the program, Shaath is focused on completing her degree and launching a career as a global advocate for Palestinian refugees.
"I want to be a voice for the voiceless, because many people in the United States and across the world do not know about Palestinian refugees and what they go through."
War, violence, and travel restrictions limit opportunities for Palestinians to study abroad. According to Open Doors data from the Institute of International Education (IIE), there were just 485 students from Gaza and the West Bank studying at universities in the United States in 2021-2022. In fall 2022, Shaath was one of three students from the Palestinian territories enrolled at Penn State, all at University Park, according to Penn State's data digest.
In part because it is so difficult for Palestinians to travel and study abroad, Shaath said, many people in the United States don't know anyone from the Palestinian territories; their only image of Palestinians may be from news media covering the long-standing conflict with Israel. She hopes that, by engaging with the Penn State community, she can help to broaden those perspectives.
"I have survived four wars and a number of escalations, but despite all the conflict, Palestinians want to live and have a good life just as the rest of the world," Shaath said.
Fulbright Opens Doors
Though facing many obstacles and long odds, Shaath excelled academically as an undergraduate, earning a bachelor's degree in English language and literature from the Islamic University of Gaza in 2019. She completed the degree in just three years, and with honors distinction, while also working for international organizations including the United Nations Relief and Works Agency for Palestine Refugees in the Near East (UNRWA) and the American Friends Service Committee (AFSC).
She was also part of a group that placed first in Palestine in the Generation Unlimited Youth Challenge, a UN-sponsored initiative that challenges youth to "co-create and deliver innovative solutions on a global scale." Shaath's team developed a strategy for empowering persons with disabilities in the labor market.
Her hard work helped her to win a scholarship through the Fulbright Foreign Student Program, a highly competitive program that enables international students and young professionals to study and conduct research in the United States. Without a Fulbright scholarship, Shaath said, she would never have been able to pursue graduate studies outside of Gaza.
The next step was to identify the university that would be the best fit for her. Working with advisers at Amideast, a nonprofit based in Washington, D.C., that administers the Fulbright program in the Middle East and North Africa (MENA) region, Shaath was drawn to Penn State and the School of International Affairs.
"I thought that the environment and culture at Penn State would be a great fit," Shaath said. "I also really liked the diverse faculty here with expertise in many different areas, and all the advising support you get at SIA."
Opportunity at Penn State
Haneen Shaath on the SIA mezzanine of the Lewis Katz Building. Credit: Image provided
Through her first year at SIA, Shaath focused on her studies and making connections with her professors, in addition to the personal and cultural adjustments that came with her first travel outside Gaza.
"I have connected with several professors who have really added to my experience, and I have learned a lot from them," she said. "Being an international student, having the support from faculty is important."
Now entering her second year, Shaath is taking advantage of opportunities to get more involved. She worked over the summer as a research assistant and, in the fall semester, she will serve as a teaching assistant for Dr. Mare Sarr, associate professor of international affairs and African studies, in his international economics course.
"Haneen is a dedicated student who is undeterred by difficulties and hardship, and she excelled in a course that many students find challenging," Sarr said. "I selected her as one of my teaching assistants because of her eagerness to share her experience and knowledge to help her fellow students in their learning process."
In addition to Shaath's coursework on topics such as policy, diplomacy, and statistics, the experiences outside the classroom and with professors will help her develop a broad range of knowledge and skills that she can apply to her career.
"When it comes to working with refugees, you have to know how to deal with statistics and numbers but you also have to be a diplomat and understand policy to know how to deal with the political aspect," Shaath said.
A Support System for Success
All international students need support in order to be successful during their studies abroad, and even more so when it is, like Shaath, their first international experience.
At SIA, Shaath receives support from three advisers—academic, career, and student services—which are provided to all students in the program. She also has access to advising and support from the International Student and Scholar Advising (ISSA) office within Penn State Global, which helps incoming and enrolled international students with U.S. visa and immigration matters and provides advising on status throughout their Penn State enrollment.
As a Fulbrighter, Shaath also stays connected with advisers at Amideast whom she described as "very helpful" with any situation, especially with cultural adjustments to life in the United States.
But the most important support comes from family.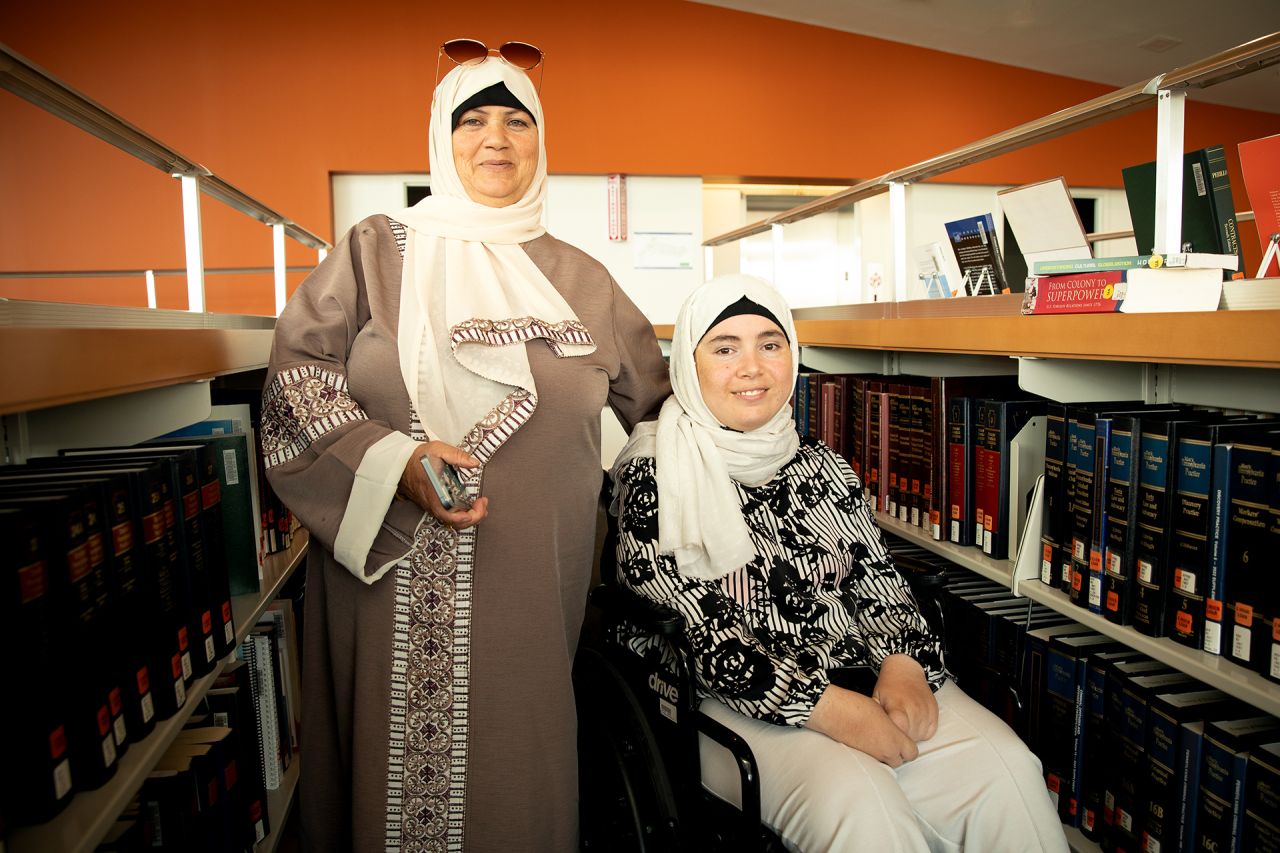 Haneen Shaath with her mother, Maha. Credit: Andy Gabriel/Penn State SIA
As a wheelchair user, Shaath needs support from her mother, Maha Shaath, to help her in her daily life activities.
Maha's decision to join Haneen for her studies at Penn State SIA was not made lightly; as a non-English-speaker also making her first trip abroad, Maha's adjustment to life in the United States is in some ways more challenging than Haneen's. And with seven other children, including three under the age of 18, living back in Gaza, Maha is making a significant sacrifice to be here.
But Maha stands by her daughter at all times, eyes filled with pride as she watches Haneen pursue her goals.
"Without the support of my mom, I would never be the successful person I am today," Haneen said. "It wasn't an easy decision for my mom to come here, but she wants me to realize my dreams, and wants to help me get there."
** This article was initially published by the Penn State School of International Affairs.