Is improving English language teaching skills a priority for your school?
Amideast's Professional Certificate in English Language Teaching (PCELT) course is designed to meet the growing need for accredited English language teachers in the Middle East and North Africa (MENA).

The 120-hour program is intended for current and aspiring teachers who are proficient English speakers, with little or no teaching background, as well as for experienced teachers who wish to upgrade their knowledge and skills based on the latest language teaching methodologies and emerging trends in the field.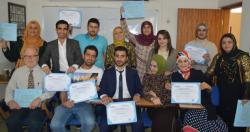 Amideast has partnered with World Learning/SIT Graduate Institute to offer PCELT across the region, providing teachers with top-quality training, hands-on teaching experience, and American accreditation. PCELT's emphasis on practices that create a learner-centered, interactive classroom has already translated into an improved learning experience for tens of thousands of students in the region.

For additional information about courses, fees, and application requirements, please contact iraq@amideast.org or 0750 757 3200. 
Upcoming Courses:
Currently, there are no upcoming PCELT courses. Please regularly check this page, or contact us at iraq@amideast.org or 0750 757 3200.