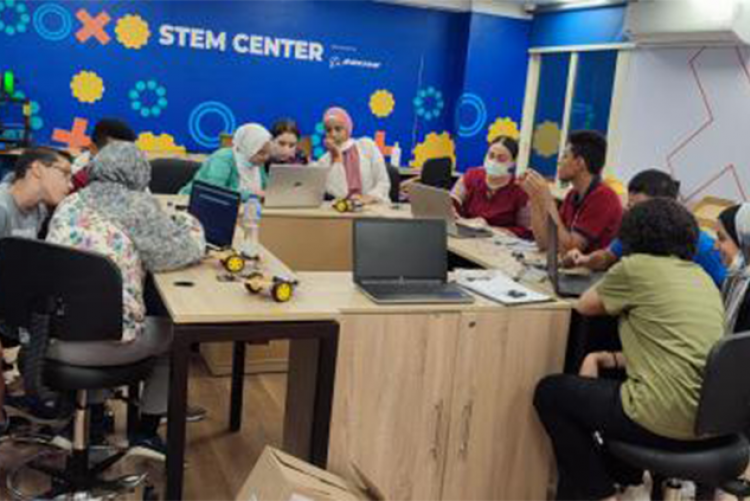 By working with local, regional, and international partners—including USAID, Boeing, and the U.S. Embassy—Amideast is empowering Egypt's youth to participate in efforts to address climate and other sustainability challenges that are facing their communities and country.  
U.S. Embassy, Egypt 
Amideast is pleased to be partnering with the U.S. Embassy in Egypt to offer the Reduce, Reuse and Recycle program, through which students and teachers are developing a deeper awareness of environmental issues and learning about different ways to address them. Project objectives include the following:
Developing students' critical thinking and problem-solving skills through STEM education 
Increasing children and youth awareness of environmental issues 
Increasing awareness of career opportunities in STEM fields 
To date, 45 children ages 8–15 have participated in short courses on recycling, powered machines, and robotics; and 60 youth ages 16–22 have completed courses on environmental engineering, programming and web development, and graphics, animation and 3D printing. Virtual and in-person guest speaker sessions have introduced youth to a variety of STEM careers and sought to motivate and inspire them to enhance their skills in STEM. 
Boeing 
Amideast launched its Cairo-based STEM Center in 2021 with generous support from Boeing. The Center offers diverse program offerings designed to equip students with knowledge and skills that will help them better respond to the changing needs of the global economy and contribute to Egypt's economic development through innovate ideas that create impact. Center activities build students' creativity and problem-solving skills in science, technology, engineering, and mathematics through experimentation and inquiry-based learning programs. These include a series of short courses focused on simple machines, construction, engineering design and robotics for students ages 8–14. Offerings for youth ages 18-22 include programming and web development; graphics, animation and 3D printing; and STEM-focused entrepreneurship.  
To date, 180 children and youth have participated in these programs. In addition, the STEM Center has hosted a series of virtual guest speaker sessions, bringing pioneers in the STEM industry to share their experiences and trajectories to success, and to introduce attendees to a variety of STEM careers. 
USAID 
The Public University Scholarships program, a component of the USAID-funded U.S.-Egypt Higher Education Initiative (HEI), invests in educational opportunities for high-achieving Egyptians to learn and apply knowledge and skills that will better meet Egypt's needs for the 21st century economy—including overcoming climate challenges and leading future climate action. This high-impact program, which is administered by Amideast and supported by Egypt's Ministry of Education, has awarded scholarships to 673 youth from disadvantaged backgrounds for study in excellence programs in five leading Egyptian public universities. Many of these students have studied, innovated, and completed internships in technical fields such as alternative energy, water engineering, science, and agriculture, as well as applying a climate perspective in fields such as business.
In addition to academic work towards their degrees, HEI students have also completed community service projects that support climate change awareness and promote environmental sustainability. Alumni have gone on to work in related fields such as solar energy and water management. They also benefit from specially designed supplementary enhancement activities such as English language training, leadership training and career planning, internships, community service, and study abroad. The program integrates private sector involvement and practical experiences so that graduates are primed to enter and contribute to Egypt's workforce in sectors that are critical to the economic development of the country.