The U.S.-Egypt Higher Education Initiative (HEI) Public University Scholarships Program, funded by USAID, supported by the Ministry of Higher Education, and administered by AMIDEAST will establish and develop sustainable and effective Disability Service Centers in collaboration with Helm Consulting at five universities (Cairo University, Alexandria University, Ain Shams University, Assiut University and Mansoura University) to help ensure inclusive and equal access to higher education for persons with disabilities.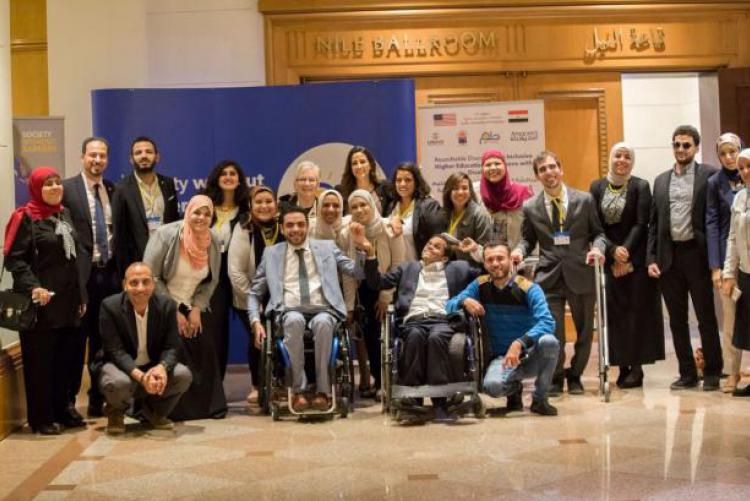 Activities
Activities offered by the University Disability Service Centers include:
 Developing policies and practices for the disability centers within each university in order to ensure a sustainable inclusive campus environment that supports the continuous development of current and future student with disabilities.
 Conducting a needs assessment to better understand the center's needs and the issues.
 Providing the center with the requested tools and equipment based on the needs assessment of each university.
Committing to plan to create an accessible campus through fundraising and the centers' funds.
 Coordinate the existing services while also providing new services and support to promote equal access to higher education for students with disabilities.
Providing training and coaching for center staff on management and disability topics.
Developing standards for the provision of reliable disability support services across the university.
Empowering and supporting universities' administration, staff, and students to embed inclusive practices and remove disabling barriers at the university.
Conducting a U.S. Study Tour to explore possibilities and improve the centers' disability efforts.
The HEI Public University Scholarships Program is one component of U.S.-Egypt Higher Education Initiative (HEI). The scholarship funds high school graduates, including students with disabilities, to attend excellence programs (English and credit hour programs) at public universities in parallel with specially-designed supplementary enhancement activities such as English, leadership training and career planning, as well as internships, community service, and study abroad. The program interweaves the private sector and practical experiences so that graduates are primed to enter and contribute to the workforce in Egypt, in sectors that are critical to the economic development of the country.
The U.S.-Egypt Higher Education Initiative (HEI) is an investment in Egypt's future that provides educational opportunities for high-achieving Egyptians to learn skills that will better meet the needs of the 21st century economy. It provides scholarships for talented, young Egyptians—women and men from underserved communities in rural and urban areas—to Egyptian and American universities in fields that will help them reach their aspirations and contribute to Egypt's economic prosperity.