Three AMIDEAST supported KL-YES alumni spent a month in DC staffing orientations for new students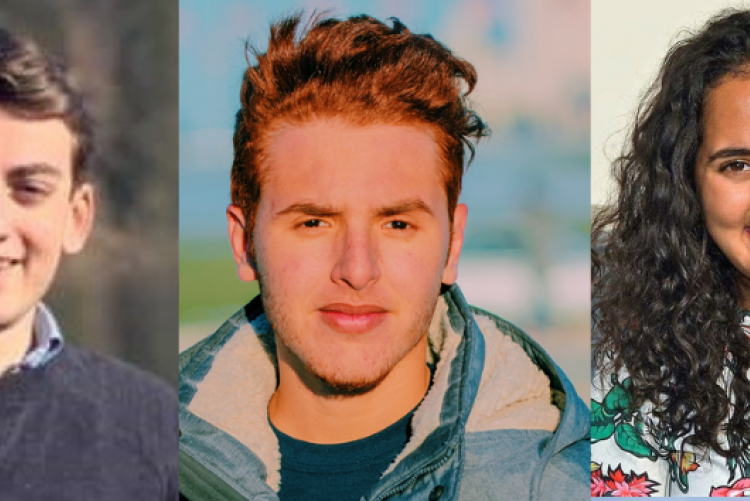 Many alumni and participants from the programs AMIDEAST runs and supports look for opportunities to give back. For alumni of the Kennedy-Lugar Youth Exchange and Study (YES) Program, which AMIDEAST currently administers in ten countries in the MENA region, there are sometimes even opportunities to serve on the program itself.
This year, three YES alumni recruited by AMIDEAST were selected to serve as instructors at the DC Orientations for the over 800 incoming YES students from around the world. Ghizlane Akourim (Morocco), Zaid Goussous (Jordan), and Anas Alhadi (Libya) journeyed from their home countries to Washington, DC in July 2019 to begin intensive training and spend a full month welcoming the new students and running orientation activities. It's intense but rewarding work, which is perhaps why Ghizlane is actually doing this for a second time in a row!
Many YES alumni apply for this opportunity, but only a few are selected every year. Ghizlane, Zaid, and Anas join peers from four other countries as this year's DCO alumni instructors. They work hard to serve these new high school students for many reasons - for instance, Ghizlane says, "I see potential in every young person. I teach English, mentor kids, give back to my community, and share, share, share. I am part of several organizations and clubs to fulfill my passion of facilitating workshops and meet-ups for youth. Giving back to my community was a notion I picked up from American culture. I was awed by how coming together as a community can build better understanding and create miracles."
For Anas, his personal experience as a YES student motivated him to want to come help: "When I arrived in DC as a tired, excited, but confused new YES student, there were these smiling, happy people at the airport wearing red t-shirts to welcome us warmly and make us feel comfortable. (Those people in red shirts were the YES DCO staff and alumni!) We spent three days learning and preparing ourselves for the year, and whenever I had a question, the DCO alumni had the answer because they had been in our shoes."
Zaid summarized the sentiment well, writing, "As a young ambassador of Jordan and the U.S., I'm thrilled to serve as an Alumni Instructor at the DC Arrival Orientations this August to share my experience and encourage the newest cohort of YES 2019-2020 finalists to make the best out of their year and return home with wonderful memories and great achievements."
AMIDEAST is very proud of these young alumni, and of the many new YES students they are helping to support!
Read the full stories about each of these amazing young people on the YES program website:
https://www.yesprograms.org/stories/alumni-instructor-series-ghizlane-from-morocco
https://www.yesprograms.org/stories/alumni-instructor-series-anas-from-libya
https://www.yesprograms.org/stories/alumni-instructor-series-zaid-from-jordan