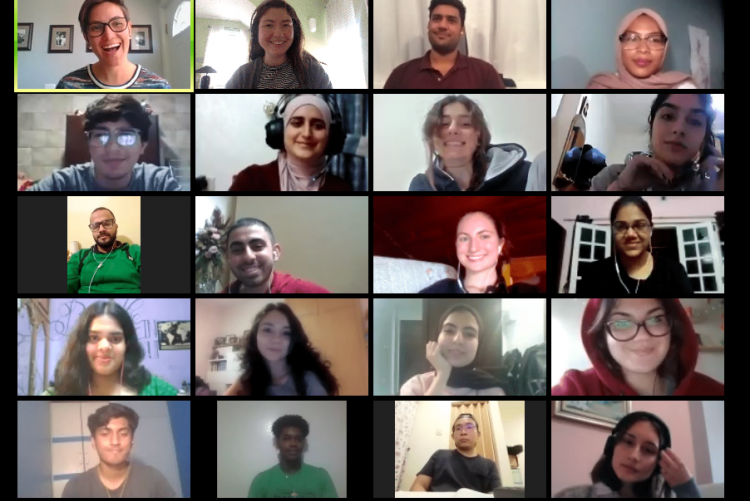 In early April, the YES Consortium held its second global Virtual Alumni Leaders Training (VALT) for more than 50 alumni of the Kennedy-Lugar Youth Exchange and Study (YES) program! VALT provided an opportunity for this select group of former exchange students, now back in their home countries, to further develop their leadership and communication skills, as well as network with their fellow alumni. Even before the global pandemic, VALT was designed as an online training initiative to ensure that participants from all 38 YES program countries could take part.
The YES program, funded by the U.S. Department of State, brings international high school students to the United States for an academic year. Students build cross-cultural knowledge, engage with their host community, and learn about American society. Working with the YES Consortium, AMIDEAST supports the implementation of this exchange program for high school students from 10 MENA region countries. The global YES alumni network is active, and alumni groups frequently gather for community service projects and other events. VALT is one of the many ways the YES Consortium continues to invest in this amazing group of young people and help them expand and practice what they have learned about volunteerism, community service, and citizen responsibility.
During the two weeks of VALT, there were 13 seminars led by YES program staff and NGO leaders, as well as nine roundtables led by the alumni participants themselves. The sessions provided practical guidance for these future leaders: how to recruit and manage volunteers, basic project management, techniques for developing creativity and ideation, and more. AMIDEAST staff members Rachel Markowitz and Sagra Alvarado led two of the seminars, on Brainstorming for Impact and Storytelling, respectively. Both subjects are important to the alumni: participants learned how to use storytelling methods to share their YES experiences with a larger audience as well as how to employ brainstorming techniques to foster group creativity and problem solving — such as how to motivate and encourage communities dealing with the current quarantine.
The closing ceremony was an opportunity for the attendees to present to a virtual panel of guest speakers, YES Consortium staff, and representatives from the U.S. Department of State's Bureau of Educational and Cultural Affairs, including Deputy Assistant Secretary Susan Crystal. In a special presentation about what he learned at the VALT workshop, Abdulaziz, a YES alumnus from Saudi Arabia, shared how excited he is to engage other Saudi YES alumni in volunteer projects in their country!
During these difficult times worldwide, VALT was a bright spot for the alumni and AMIDEAST staff. Despite the challenges we are facing, YES alumni continue to care about serving their communities and are eager to learn new tools to accomplish these goals.