Come learn from three AMIDEAST HQ staff what it means to them to be an international education professional AND a program alum!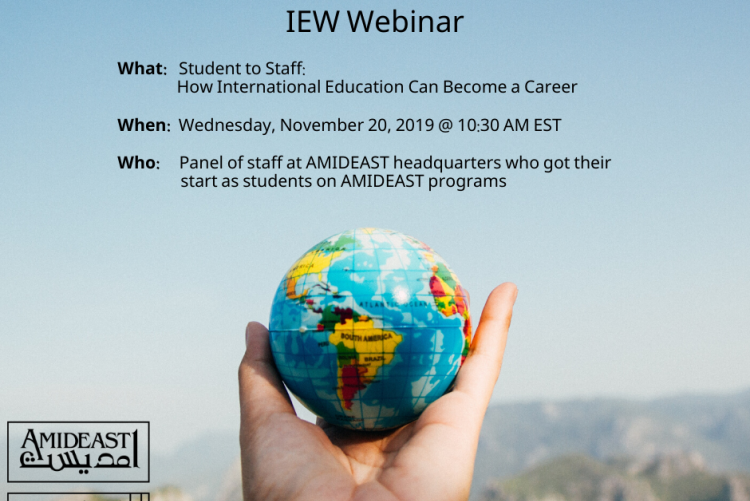 To celebrate International Education Week (IEW), AMIDEAST is proud to host a special global webinar - Student to Staff: How International Education Can Become a Career. Join us on Wednesday, November 20th starting at 10:30am EST!
This special IEW webinar will feature three AMIDEAST program alumni who are now working to support students on many programs through AMIDEAST headquarters.  Read their brief bios below and follow the Zoom link to register for the event! Feel free to share this far and wide - everyone is invited.
Bushra  Program Officer, Exchange Programs @AMIDEAST
Bushra represented Yemen on the Kennedy-Lugar Youth Exchange and Study (YES) Program as a teenager. Now she supports international students in a variety of programs including the Hope Fund, the Diana Kamal Scholarship Search Fund, and the MEPI Tomorrow's Leaders program.
Alex Program Assistant, Fulbright Program @AMIDEAST
Alex won a Critical Language Scholarship to study Arabic in Morocco and then studied abroad on an AMIDEAST program in Morocco as an undergraduate student. He later returned to Morocco as a Fulbright grantee, and now he supports Fulbright Foreign Student grantees through his work at AMIDEAST.
Mohammed Communications Intern @AMIDEAST
Mohammed is originally from Gaza and has participated in a wide range of international education programs including the English Access Microscholarship program, Kennedy-Lugar Youth Exchange and Student (YES) program, Abraham Lincoln Scholars, Diana Kamal Scholarship Search Fund (DKSSF), and the Hope Fund. He served students at AMIDEAST Gaza and is now supported the Communications team at AMIDEAST headquarters.
You can watch the full webinar now on Youtube!