A great opportunity to earn a master's degree online from a highly reputable U.S. university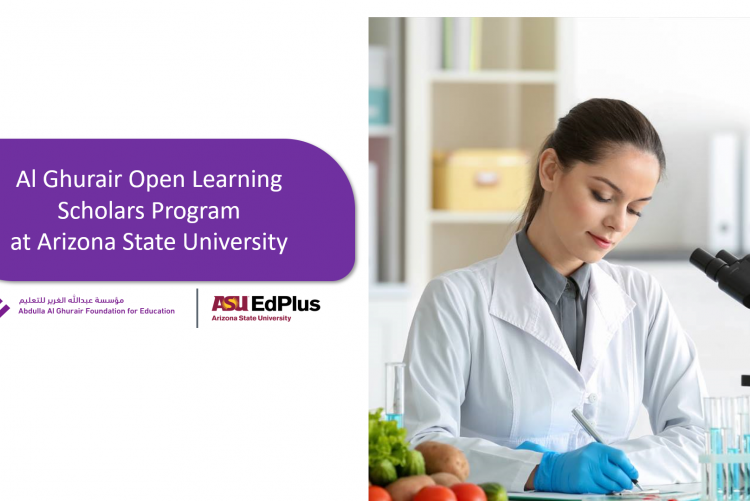 Are you looking for scholarship opportunities to pursue your master's degree in a STEM-related, Education, or Healthcare field next starting in Fall 2020? The Al Ghurair Open Learning Scholars Program (OLSP) is now receiving applications from bright Arab students for over 30 online master's degree programs at Arizona State University (ASU). 
The Abdulla Al Ghurair Foundation for Education is a privately-funded philanthropic initiative based in Dubai, which aims to support underserved, high-achieving Arab youth by providing access to educational opportunities. OLSP is offering full scholarships to enroll in one of more than 30 online master's degrees at Arizona State University (ASU), which has been consistently ranked the United States' most innovative university. The funded programs are in the fields of engineering, technology, health, education, and more that are not readily available in the region. 
If you win the OLSP scholarship, you will receive:
A full scholarship at ASU, which covers all tuition and fees for one of the approved online master's degrees;
Access to a network of Al Ghurair Scholars in your program;
Personalized academic advising, career counseling, and mentorship through ASU; and,
Opportunities to be featured in program communications including their website and social media.
This opportunity is not available to everyone. To be eligible, you must:
Be a citizen of an Arab country, without citizenship to a non-Arab country;
Have a 3.0 GPA or 85% grade average;
Be 29 years old or younger (anyone 30 years old or older is not eligible);
Be able to demonstrate financial need;
Have completed your undergraduate degree, but not yet completed a master's degree; and
Preferably, you will have lived in the Arab world for at least 12 years of your life.
You should also note:
Over 30 specializations are available for this scholarship, all of which are either STEM-related, highly demanded in the Arab region, or specializations that are not readily available already in the region.
The degree programs for ASU that are available online are known to be of equal quality to the on-campus degrees, and the diplomas that students receive are the same whether earned remotely or in-person.
Scholars will have high quality interactions with professors and classmates.
Scholars will also have access to a success coach to guide them through their journey.
ASU's online degree completion rates are some of the highest in the world.
The next application deadline is April 5th! Visit the website and complete your scholarship application before the deadline. Use this special link to apply as an AMIDEAST community member: http://bit.ly/ols_amideast
The application for OLSP is free and it's completely online. You will need to apply to both OLSP and to ASU in order to receive this full scholarship, and the fees for both will be waived for you as an applicant through the Al Ghurari Foundation for Education.
If you have any further questions, email Ahmed Ali: ahmed.k.ali.@asu.edu