Yasmine El Baggari has a passion that led to an award winning social enterprise - Voyaj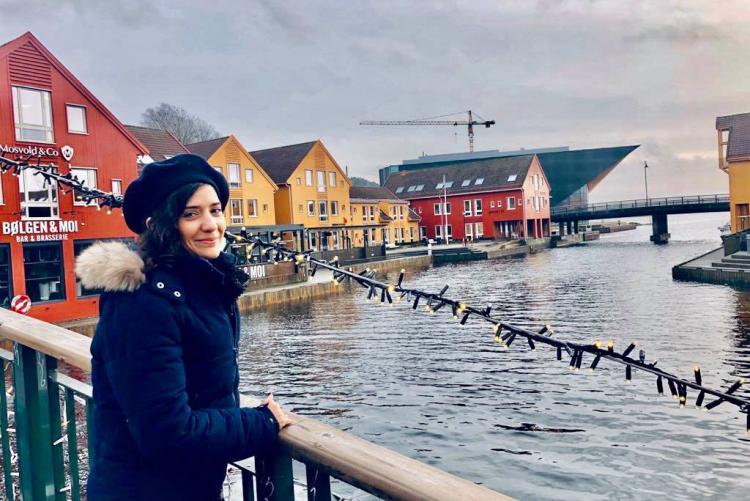 The below article was written by Yasmine El Baggari, a Kennedy-Lugar Youth Exchange and Study (YES) program alumna recruited by AMIDEAST Morocco. 
We imagine a world where strangers no longer exist. It's time to finally sit down and meet each other.
Online and offline.
After I traveled to 40+ countries, all 50 American states on greyhound buses and over 250 home-stays with local families. I discovered one simple thing: Fostering meaningful connections and experiences across cultures is a real effective way to create change and contribute to solving our planetary challenges. 
A world where we all belong and experience authentic connection and cultural exchange with our human family.
Following my Greyhound journeys across America, I discovered my mission. My commitment to connect people to each other for interpersonal exchange to foster global understanding – via technology – drives me daily and led to my founding of Voyaj, Inc., (www.voyaj.com) a global platform that uses technology to connect people from around the globe for one-on-one meaningful cultural experiences.
Voyaj is an intersection where meaningful person-to-person exchange and technology meet. Thus far, Voyaj and our dedicated team have implemented a sharing economy model, collaborating with global communities, international organizations, and institutions.
Since my incredible year in Kansas with the YES Program, I received a Bachelor of Arts in Economics and Entrepreneurship from Hampshire College. Amherst, MA proved fertile ground for my education. With contacts made in this environment of inquiry, I was able to take part in research at Harvard University to explore women's rights in the Middle East and democracy in Morocco, Tunisia, and Egypt, and further inform the possibilities of using technology to positively affect individuals, communities, and the larger world.
I have worked on expanding my understanding of how and why individuals and communities interact with technology, and envision how cultural exchange can help move our world forward.
At Voyaj, we often ask: where do we want to see the world tomorrow? How can we be the change we want to see? Our mission is our daily touchstone– to foster deeper and more meaningful human interactions. Our current global climate demands that we bridge cultures, cultivate understanding, and together become dynamic global citizens.
Voyaj goals include:
Build a world of learning and collaboration among individuals across genders, age, and background
Offer safe environments for the exchange of ideas and cultures
Facilitate effective interpersonal communications
Procure tools for self-awareness to bridge cultural barriers to create a kinder world
Collaborate to empower each other to become dynamic global citizens
Here are 7 simple steps for building your own community:
Be open, clear and curious
Be purpose-driven, intentional and available
Clearly identify your mission statement and values. Understand your why
Identify the people you want to bring together and get to know them in a true and authentic way
Let everyone share who they are and empower them to share their stories
Ask the simple question: how can we, as a community, help and empower each other?
Have fun, smile, dream big
Yasmine recently delivered a live webinar on Building Meaningful Relationships for the ALAM community and guests on our alumni page on Localized. If you are an alumnus/a of an AMIDEAST program and you would like to create a profile on Localized to see Yasmine's presentation and more, contact alam@amideast.org or your local AMIDEAST staff.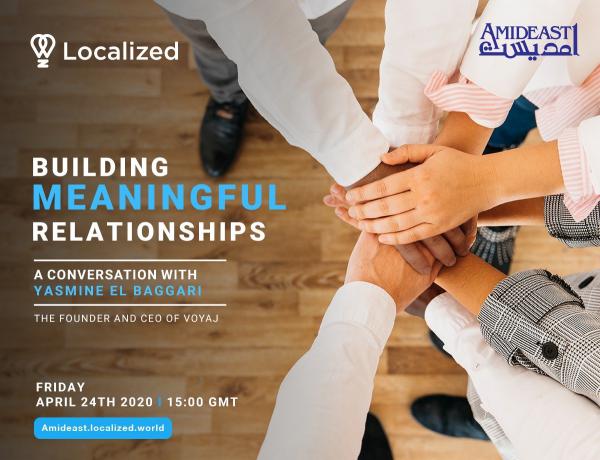 Background on Yasmine El Baggari and Voyaj:
Voyaj was founded by Yasmine El Baggari in 2014, its vision born after her transforming experiences while visiting all 50 U.S. states as a guest in more than 250 American homes. Visits to more than 40 countries further confirmed the positive impact that warm hospitality, curiosity, and open-mindedness of people from every corner of the world will inspire. Ms. El Baggari was determined then to share these life-changing experiences with the world.
Her next journey? Launch Voyaj to the world and go to space one day.
To learn more:
BBC World News: https://www.youtube.com/watch?v=jIEtXJJSPiA
Yasmine Elbaggari Travels the World Turning Strangers Into Friends—And She Wants You To, Too: https://www.glamour.com/story/voyaj-yasmine-elbaggari
Don't hesitate to reach out to yasmine@voyaj.com for any questions, inquiries and collaborations.