By Cathy Mentzer
Wilson College holds the distinction of being one of only eight women's colleges in the United States to enroll students as part of the NeXXt Scholars Initiative in its inaugural year. Ghada Tafesh, of the city of Gaza in the Palestinian Territories, is one of 12 international students to participate in the program, which encourages young women from countries with predominantly Muslim populations to obtain a world-class STEM (science, technology, engineering and mathematics) undergraduate education at one of 38 U.S. women's colleges.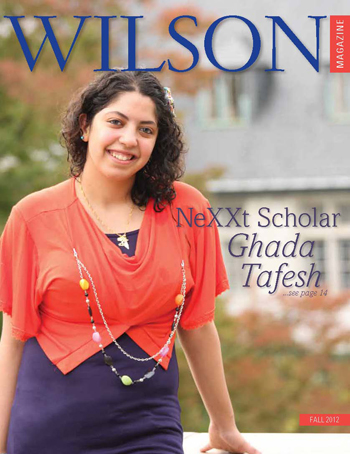 Meet Ghada Tafesh, an AMIDEAST DKSSF Scholar from Gaza. Currently an undergraduate student at Wilson College in Pennsylvania, she is also one of 12 international students in the NeXXt Scholars Program, a U.S. Department of State initiative that is helping young women pursue undergraduate studies in STEM disciplines. We were pleased to see her featured in the fall 2012 issue of Wilson Magazine.
Tafesh is paired with a "STEM sister," Lindsey Sutton of Greencastle, Pa., who is one of 12 American NeXXt Scholars. Tafesh is majoring in biology and wants to become a doctor. Sutton is majoring in chemistry, with the goal of going to graduate school and then into research or chemical engineering.
Both students will receive five-year memberships in the New York Academy of Sciences and will benefit from access to the organization's internship, research and networking opportunities, as well as mentorship from NYAS members.
Tafesh, matched with Wilson by AMIDEAST—a leading American nonprofit engaged in international education activities in the Middle East and North Africa—was an exchange student in Laurel, Md., during the 2010-11 academic year.
"Ghada told us that she seeks intellectual fulfillment along with leadership abilities, communication, teamwork, problem-solving and decision-making skills," said Wilson Vice President for Enrollment Mary Ann Naso. "Wilson anticipates that we will benefit from the presence of this outstanding young woman."
Printed courtesy of Wilson College. To view online:  http://www.wilson.edu/alumnae/alumnae-quarterly/aq-online/index.aspx
For more information about the