Annual Report
Making a Difference — 
the title of AMIDEAST's annual report for 2014 — is more than a tag line. It reflects a set of values by which AMIDEAST lives and operates, implementing programs every day to improve the lives of others across the Middle East and North Africa. Last year, our education and training programs enabled men and women, young and old, to make a difference in their own lives and the lives of others in ways that are nothing short of transformational. By sharing some of their stories and our report, we hope that you, too, will be inspired and support our efforts to expand opportunities for education and training in the region at a critical time in the region.
Previous Annual Reports
Changing Lives (2013) 
Read
 
Turning Challenges into Opportunities (2012) 
Read
 
Celebrating 60 Years of Engagement (2011)  
Read
---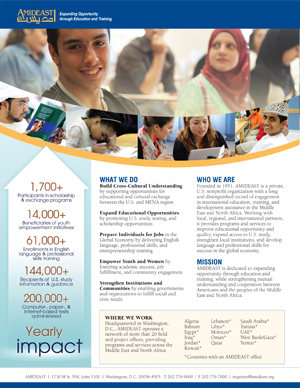 AMIDEAST at a glance
AMIDEAST is dedicated to expanding opportunity through education and training, while strengthening mutual understanding and cooperation between Americans and the peoples of the Middle East and North Africa.