AMIDEAST is pleased to announce the appointment of Mr. Christopher Powers as its new vice president for exchange programs, starting June 22, 2020. He follows Ms. Kate Archambault, who retired in May after more than 40 years with the international education organization.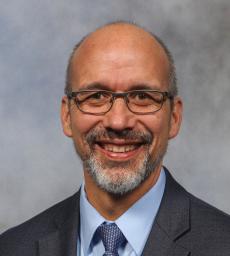 Mr. Powers will oversee AMIDEAST's support for scholarship and exchange programs that include notable U.S. Department of State-funded initiatives such as the Fulbright Foreign Student Program, the Youth Exchange and Study (YES) Program, and the MEPI Tomorrow's Leaders program, as well as two AMIDEAST initiatives — the Diana Kamal Scholarship Search Fund (DKSSF) and the Hope Fund — that open doors to U.S. higher education for underserved youth from the Middle East and North Africa (MENA) region.
Prior to joining AMIDEAST, Mr. Powers served as the executive director of TESOL International Association, a leading global association of English language teaching professionals. Before that, he served in senior leadership positions at the Institute of International Education (IIE) and NAFSA: Association of International Educators, where he oversaw international education, language, and exchange programs in both directions.
"We are pleased to welcome Chris Powers to AMIDEAST. As an international education executive for more than 25 years, with direct experience in the MENA region, he brings an impressive combination of management skills and leadership experience to guide our work in the critically important area of international educational exchange," said AMIDEAST President and CEO Theodore H. Kattouf.
Mr. Powers holds a bachelor's degree in political science from James Madison University and a master's degree in foreign affairs from the University of Virginia.