Happy International Women's Day 2022! Amideast is pleased to join in the global celebration of women's social, economic, cultural, and political achievements. Since the days of our first president, renowned American journalist Dorothy Thompson, Amideast has long supported women's empowerment and leadership. For this #IWD2022, we are excited to introduce you to some of our incredible female leaders and the programs they run in support of women in the Middle East and North Africa.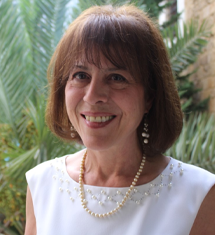 For 23 years, Amideast/Lebanon Country Director Barbara Batlouni has seen "our work benefit many thousands of women in Lebanon!" She notes that every program Amideast offers has empowered women as they seek to achieve educational or professional goals: "High school exchange programs have broadened the horizons of young women. English language programs have empowered thousands of women to improve this critical skill, as well as their communication abilities and their self-confidence. Programs to help students study in the United States have helped several hundred women earn bachelor's and master's degrees and gain exciting work opportunities afterwards. Professional development programs have helped women earn credentials valued in today's market, such as PMP® and LEED Green Building. And our work to train and support aspiring entrepreneurs has helped many women (and men!) launch their own businesses. We have alumni now working as cancer researchers, NGO leaders, university professors, architects, theater leaders, teachers, and even on space missions to Mars."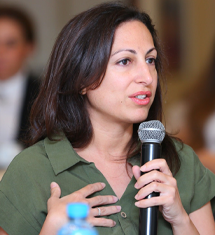 Amideast/Kuwait Country Director Samar Khleif came to Amideast in 2012 with the goal of using her financial and consulting background to make a positive impact on women, youth, and underserved communities. With support from key partners such as the U.S. Embassy in Kuwait and Boeing, Amideast/Kuwait has been able to run career empowerment programs tailored for women in both Kuwait and Bahrain looking to improve their professional and personal lives. Other programs, such as Coding for Kids and College Readiness, prepare both girls and boys for educational opportunities—including in fields in which women are historically underrepresented. Of her nearly 10 years at Amideast, Samar says her greatest wish "is to look back at all the wonderful programs we have been able to implement and know that even the slightest improvement in someone's personal or professional life can be traced back to Amideast."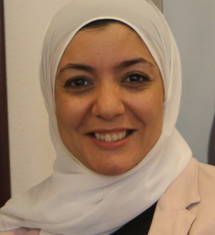 Dina Mohsen, the Disability Program Manager for the USAID-funded Higher Education Initiative, was a pharmacist by trade until she decided to follow her passion to make "a tangible impact on people's lives." Since joining Amideast, she has been responsible for establishing five disability centers at Egyptian public universities and managing accessibility for HEI scholars with disabilities as they pursue studies with new autonomy and independence. Her work is especially impactful for the female students supported through this program—326 women from disadvantaged backgrounds across Egypt have been able to pursue undergraduate degrees at top universities and have benefited from the additional trainings provided by the program on subjects such as gender-based violence and women's rights. The Egyptian government has been focused on women's empowerment as part of their Egypt Vision 2030 and Dina's work through the HEI program has complemented this national effort. As Dina shares, "Changing mindsets [about disabilities] might not be easy but with persistence, commitment, and faith in what we are doing, this has been made possible!"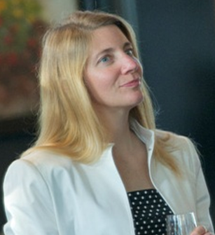 Sabrina Faber, the Amideast/Yemen Country Director, has been supporting women in Yemen for decades, bringing to her work an impressive set of skills and interests ranging from banking to international shipping to higher education! She has worked on numerous life-changing programs such as training midwives in the late 1990s that led to the establishment of a community midwife training department at the Yemen Ministry of Health, setting up the first computer labs for five female secondary schools in the 2000s, and more recently launching a vocational training program for men and women that included a renewable energy component! Sabrina explains, "Amideast in Yemen is fortunate to work with so many incredible women in Yemen and around the world. What's been critical for these and all Amideast/Yemen programs are the women who have been the mentors, advisors, supporters, and implementors."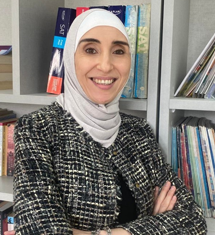 Arwa Jaber, the Scholarship Program Officer at Amideast/West Bank, has spent 14 years working to provide Palestinian youth, especially young women, with opportunities to better their lives. She shares, "Our work on scholarships and exchange is at the heart of empowering young girls and women to take control over their lives and change their futures. Education opens doors for them. I have seen firsthand so many women whose lives would not have been the same if they had not been given the educational opportunities Amideast offers or administers. Programs such as the Hope Fund, the Fulbright Foreign Student Program, the Tomorrow's Leaders program, and the Kennedy-Lugar Youth Exchange and Study (YES) program enable young women to be the surgeons, architects, educators, and businesswomen they are today."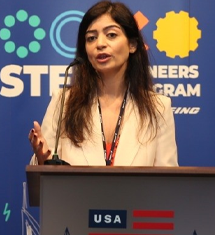 Sara El Dallal, the Amideast/UAE Country Director, has a long history of making a difference in the lives of students and young professionals. She spent seven years working at Amideast/Lebanon where she managed scholarship programs and, after working with Microsoft as an Education Marketing Manager, returned to Amideast in 2021 via our UAE office as the new country director. She notes that "I came back to Amideast to utilize my experience in governmental, non-governmental, and corporate institutions to make a bigger impact and march forward with the Amideast banner up high." Her work at Amideast in Lebanon "has helped women of different ages realize their dream of higher education" and, in the UAE, her team is helping women and girls improve their English language skills, join the workforce, and discover their passion for STEM with partners such as the US Embassy and Boeing! As she eases into her new role as country director, she is looking forward to new opportunities to "change people's lives for the better."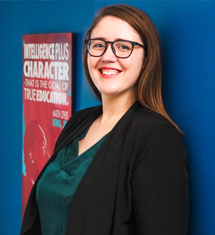 The country director for both Tunisia and Libya, Annie Stetler brings a background in business development, social media, and grant management to the dynamic work of multiple Amideast offices. She takes diversity seriously, noting that "diverse teams are stronger teams" and that in addition to internal diversity efforts, her team is "working towards inclusion, equity, and diversity in all our programs." One such program is an upcoming professional skills course for young Tunisian women through the American Corner Sousse, focusing on women's rights and safety in the workplace as well as skills like interviewing, financial planning, and negotiating salaries. This program is similar to another one held several years prior at the American Corner Tunis, the Women in STEM Summit, which promoted inclusiveness and support for STEM exchange and academic programs among women and girls.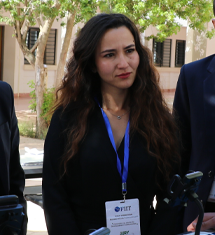 Mounia Lazar, the Entrepreneurship Programs Manager at Amideast/Morocco, first came to Amideast as a high school student taking English courses! Today she is proud to contribute to Amideast's mission and fulfill her dream of having "a positive impact on people's lives." She has had the chance to support the implementation of a number of women's empowerment projects run by Amideast, such as the Arab Women Entrepreneurship program, which, in partnership with Citi Foundation, which coached, mentored, and supported 50 Morocco entrepreneurs as they created startups. Mounia implemented another program for women entrepreneurs in the region of Khouribga, which trained women from rural areas on different income-generating activities. She shares that "watching the evolution of a woman's dream from idea to concrete implementation, as well as her personal development and growing self-confidence, is always impressive! At Amideast, I have discovered a passion for supporting youth and women."