Muscat, April 7, 2013 — His Highness Sayyid Taimur bin Assad Al Said officially opened the new premises of AMIDEAST today at a ceremony that featured remarks by U.S. Ambassador Greta C. Holtz and a letter from AMIDEAST's President and CEO, Ambassador Theodore H. Kattouf, read by an AMIDEAST headquarters representative. Officials from various Ministries, private sector companies and educational institutions participated in the event and then toured the new facilities at Airport Heights, which include four floors of classrooms, computer labs, testing facilities, conference and meeting rooms, a library for educational advising, a student lounge, and staff offices.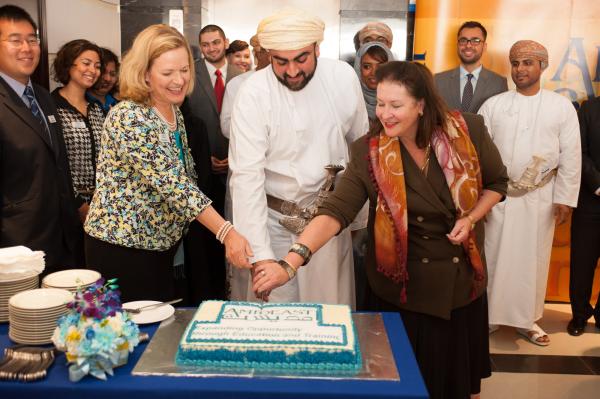 L-R: Sarah M Jackson, AMIDEAST country director, H H Sayyid Taimur bin Assad al Said and H E Greta C Holtz
"AMIDEAST is a leader in educational and professional development throughout the Middle East," said Ambassador Holtz. "As the U.S. Ambassador, I am proud to work with your staff and teachers who are uniquely bright, enthusiastic, dedicated and fine young representatives of the United States. I know our programs are in good hands, and I cannot think of a better partner for all of us who are dedicated to education and professional development." 
The AMIDEAST office in Oman was established in 2007 through a Memorandum of Understanding (MOU) with the Ministry of Education.  As the first international nongovernmental organization to be granted residency in Oman, AMIDEAST opened an office in Qurum in 2008, and then moved to its current location earlier this year. 
"Our inauguration of these new premises is really a celebration of the ways in which they will enable us to expand our programs, thereby furthering our goals in support of the impressive development of Oman," commented Ambassador Kattouf. "These programs include workforce development initiatives, such as English language courses, professional skills training, career guidance seminars, and tailored job readiness classes. We are also pleased to participate in efforts aimed at realizing His Majesty's vision of a vibrant SME sector by offering a variety of entrepreneurship workshops in partnership with the Cisco Entrepreneur Institute and corporate sponsors."
AMIDEAST staff welcomed the guests and highlighted the numerous partnerships that the American nonprofit organization has established as it seeks to provide opportunities for Omanis to achieve their education and training goals. A variety of programs are implemented in cooperation with the Ministry of Education and with funding from the U.S. Department of State. AMIDEAST also works with the Ministry of Higher Education, other ministries, and private sector companies in providing educational services and programs in Oman.