AMIDEAST Education Abroad Programs in the Arab World are administered by a collaborative team of Field Office and Washington, D.C. Headquarters staff. This team of education abroad professionals provides AMIDEAST students with health & safety, academic, language acquisition, intercultural development, cultural adjustment, and logistical support. In addition to student support, these staff members work with local faculty to develop quality Arabic and Area Studies courses.
Dr. Elena Corbett, Director in Washington, D.C.
Elena first set foot in Jordan more than 20 years ago as an undergraduate on an archaeological field project in Aqaba.  It was the beginning of countless life-long obsessions, both personal and professional. 
She holds a Ph.D. from the Department of Near Eastern Languages and Civilizations at the University of Chicago, where she specialized in the history of the modern Middle East, particularly the narratives woven by archaeology and related sciences in contexts of colonialism, nationalism, capitalism, and resistance.  Her book, Competitive Archaeology in Jordan:  Narrating Identity from the Ottomans to the Hashemites, was published by the University of Texas Press in 2014. 
Prior to AMIDEAST, Elena was Center Director at CIEE in Amman for almost 5 years.  Before that, she was on an academic career path at both Penn State University Erie and the U.S. Naval Academy, where she was involved in numerous initiatives to get students to study abroad in the region, including program and curriculum design and implementation.  A former CASA, ACOR, CAORC, and Fulbright DDRA fellow and the first program coordinator for CLS in Jordan, Elena is deeply passionate about mentorship and enabling for others the same kinds of opportunities that have been so critical on her own journey.  As much as she loves and misses the classroom, writing, and being engaged in academic fieldwork, she finds great meaning and fulfillment in getting students studying abroad in the Middle East.
Katie Johnson, Coordinator in Washington D.C.
Katie first traveled to Jordan as an undergraduate student on an archaeological study abroad program nearly 20 years ago, and it shaped the rest of her career. Katie went on to earn two Masters degrees from The University of Chicago, where she specialized in Islamic Archaeology, particularly that of the Ottoman period. She has studied, excavated, and worked in a number of countries in the MENA region and the Balkans. Before joining the AMIDEAST team, Katie worked at the Duke University Middle East Studies Center as Program Coordinator, where she was able to expand her knowledge of academic administration, outreach, and programming. Prior to Duke, Katie lived in Istanbul for many years teaching at Istanbul Bilgi University where she taught a variety of undergraduate courses, advised students on study abroad programs, and organized intercultural workshops with the Danish Institute for Study Abroad. For more than a decade, Katie has also been the Library Fellow and managing editor for TARII (The American Research Institute in Iraq), a subsidiary of CAORC (the Council of American Overseas Research Centers). Katie joined AMIDEAST Education Abroad in July 2017. 
Christina Gordon, Senior Program Officer in Washington D.C.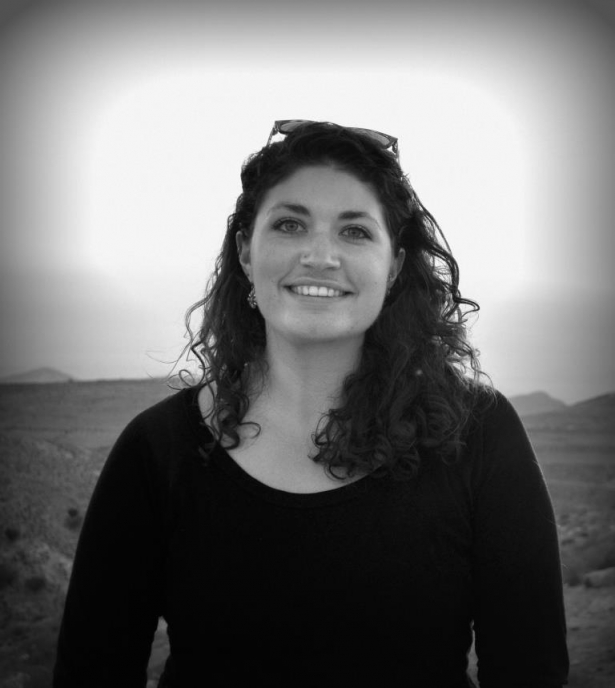 Christina graduated from Kenyon College in 2012 with a bachelor's in Political Science and Modern Languages, specializing in Spanish and French.  She first studied abroad as a high school exchange student in Sicily and quickly fell in love with cross-cultural learning, language studies, and international education.  As a result, Christina has studied in Italy, Morocco, Peru, and Jordan; in addition to being the US host sister to three high school exchange students.
Christina's first exposure to the Arabic-speaking world was in 2007 when she spent a gap year studying in Sicily.  She discovered the lasting impact of Arab civilization on the island and began to focus her interests on the development of cultural identities, which later became the core of her research across other parts of the world.  Christina began her Arabic studies as a student in AMIDEAST's Intensive Summer Arabic Program in Morocco and continued there as a semester student.  After graduating from Kenyon College, Christina came to Jordan as a participant in the Critical Language Scholarship Program in 2012 and returned in 2013 as a Fulbright English Teaching Assistant. 
Christina began working with AMIDEAST in Washington, DC in the winter of 2013.  While on the Fulbright grant in Jordan during the 2013-2014 academic year, she began working in the AMIDEAST/Jordan office and later joined the Education Abroad team upon completion of her grant.  Christina served as the Senior Program Officer and Acting Program Manager for Education Abroad in Amman for a year before returning to Washington, DC to pursue a graduate degree. Christina earned her Master's at George Washington University's Elliott School for International Affairs with a focus on Global Gender Policy in 2017.
Hazel Unger, Senior Program Assistant in Washington, D.C.
Hazel knew she wanted to specialize in the Middle East after a Hebrew and Arabic language summer program in Jerusalem at Hebrew University. After this, she obtained her BA at Florida State University and subsequently her MA at University of Michigan in Middle Eastern and North African (MENA) studies. After graduation, she was awarded a Fulbright Teaching Assistantship Scholarship and began teaching at Hassan II University's Ben Msiik campus in Casablanca, Morocco. Living with a host family for the duration, Hazel fell in love with Moroccan culture while at the same time witnessing the transformative effect of international cross-cultural programs on both her students and herself.
At the end of her Fulbright, Hazel decided to extend her stay in Casablanca and joined the American Language Center (ALC) as an English instructor and community service coordinator. As ALC's community service coordinator, Hazel facilitated youth-led community projects addressing Casablanca's environmental and pollution problems. Collaborating with local NGO's, Hazel worked on projects ranging from a city-migrant worker empowerment project centered on recycling to shoreline restoration projects.
After two years in Casablanca, Hazel left for D.C. to begin work as the office manager of the Palestinian American Research Center (PARC) connecting her interest in enhancing regional academic scholarship and educational MENA cross-cultural programs. At PARC, Hazel contributed to improving Palestinian scholarship, enhancing academic linkages between Palestinian and American academics, and exposing university faculty and media journalists on Palestinian issues. Hazel joined AMIDEAST in August 2017. 
Dr. Khaled Abuamsha, Arabic Studies Consultant
Dr. Khaled Abuamsha is Academic Director for Modern Standard Arabic at the Qasid Arabic Institute and serves as Qasid's point-person to provide Arabic language guidance for all AMIDEAST programs. Since 1997, Dr. Abuamsha has been teaching and giving lectures at various academic institutions, including the International Islamic University in Malaysia, the University of Jordan, and Brigham Young University in Provo, Utah, where he was a visiting professor at the Department of Asian and Near Eastern Languages for most of 2012.  Dr. Abuamsha holds a PhD in curriculum development and methods of teaching Arabic as a second language and is finishing his second PhD in linguistics.  His research interests include proficiency measurement, methods of foreign language teaching, teacher training, foreign language program evaluationand curriculum design.  He has written more than 20 books and papers and participated in several international conferences pertaining to Arabic teaching and linguistics. Dr. Abuamsha has been working with AMIDEAST since 2009.
Dr. Sara Ababneh, Academic Coordinator in Amman, Jordan

Dr. Sara Ababneh is an assistant professor and researcher at the Center for Strategic Studies at the University of Jordan, where she coordinates the service learning program and the Arab Barometer. Dr. Ababneh taught courses on Middle Eastern politics, gender, and international relations theory at the University of Jordan and at various colleges at the University of Oxford. In addition, she served as the faculty host of the CIEE Interdisciplinary Faculty Development Seminar entitled "Jordan: Women and Gender in Light of the Arab Spring" in the summer of 2013. After receiving a BSc in Politics and Economics from Earlham College in Indiana and an MScEcon in International Politics, at the University of Wales, Aberystywth, Dr. Ababneh earned her DPhil in Politics and International Relations at St. Antony's College, University of Oxford in 2009.  Her dissertation was a study of female Islamists in Hamas in occupied Palestine and the Islamic Action Front in Jordan. Currently she is studying the popular Jordanian protest movement (al hirak al shabi al urduni), the Jordanian Personal Status Law reform in terms of gender and class, and EU-Jordanian Relations
Wafa Ramini, Arabic Coordinator and Instructor in Amman, Jordan
Wafa completed her bachelor's degree in Journalism and Political Science from Al Yarmouk University in Jordan in 1993. Throughout her academic years, she always had a passion for
language and literature. In addition, she has always been active in a number of activities such as Literature Club, Amnesty International, the Jordanian Women's Union, and the Anti-Violence Society committee. Lastly, her passion for the Arabic language was what drove Wafa to win a first place award in short story writing at her university.
After graduating, she began her work at Al Nadwa for Research and Studies where she excelled in writing essays, research, and studies run by the office in Jordan. Based on that experience, she moved on to become an editor for the Special Issues department at one of the leading daily newspapers in the country, where she did reports on stories such as women and humanitarian features, plus academic and public polls.
As a correspondent of a well known press regional news agency, Wafa followed up with governmental departments, international organizations, and travelled to cover major events as needed for this important position. After taking a course in teaching Arabic as a second language at the Jordanian University, she began working as a teacher at Qasid Institute, teaching the language to students from different backgrounds such as university students, diplomats, NGO staff etc. for 3 years, and then moved to do the same at AMIDEAST for the past 4 years. 
Wafa's philosophy is that the essence of learning a new language is the thrill of new experiences, and most importantly, having fun. She also believes that she learns from her students just as much as they learn from her.
Myrna Al Tall, Program Manager in Amman, Jordan

Myrna received her degree in Applied Linguistics from the Jordan University of Science and Technology in 2005. After graduating, Myrna began her intercultural experience working for the U.S. Peace Corps in Jordan. Myrna held several different positions with the Peace Corps. She started as a Language and Cross-Cultural Facilitator and then served as a Youth Development Program & Training Assistant and Gender Coordinator where she trained and supported Peace Corps Volunteers in intercultural skills. In this position, Myrna also worked to build strong relations with community members. Myrna went on to become the Acting Regional Manager for the Peace Corps in the Ajlun Governate, where she identified and prepared worksites and housing for the volunteers. She also served as the primary point of contact for volunteers in that region of the country. Myrna's most recent work included working as the Grants Coordinator, managing the Small Project Assistance grant between USAID and the Peace Corps in Jordan.
Myrna is excited to bring her skills and experience to continue working in an intercultural environment and to be a part of AMIDEAST's team in Jordan. Myrna has been working with AMIDEAST since the fall of 2015.
Nour Darwazeh, Senior Program Officer in Amman, Jordan

Nour grew up, moving between the Middle East and the United States which allowed her to see the world from a unique perspective from an early age. While studying to get her BA in Applied Arts and Graphic Design, she was introduced to the field of inter-cultural learning and global education which quickly became her second passion.  This led her to volunteer and work opportunities with several different study abroad programs in Jordan including with AMIDEAST in 2009. After graduating from college, she moved back to the United States and worked as a cultural facilitator for a variety of universities. In 2014, she moved to Morocco to work as a program leader on short-term cultural programs for American students visiting Morocco from Spain. In the summer of 2016, after a rich and memorable experience in Morocco, Nour moved back to Jordan and joined the AMIDEAST team as a Senior Program Officer in June 2016. 
Omar Tuguz, Program Officer in Amman, Jordan
Omar started working with AMIDEAST in June 2014 with the Educational Testing department, where he assisted  with the TOFEL and English language placement exams. Later in the year, Omar assisted with the Training department, Coordinating class schedule, preparing English classes materials in addition to English language exam proctoring. In 2015 Omar joined the Educational Abroad department as n intern, assisting with cultural activities, language learning and student affairs issues. In June 2016, Omar rejoined the Educational Abroad team as the Program Officer, overseeing extra-curricular aspects of the program and providing essential logistical arrangements.
Ghassan Tlili, Program Officer in Amman, Jordan
Ghassan Tlili moved to Amman, Jordan early 1980's with grandparents from Lebanon and has lived in Jordan since that time. Ghassan attended high school in Amman and received his Bachelor's degree in Marketing from the University of Petra. While studying, Ghassan worked with the U.S. Peace Corps in Jordan as an Administrative and Medical Assistant. Ghassan has a passion for humanitarian work and has volunteered with Operation Smile in Jordan, where he served as a translator for the medical team and took photographs for the organization. In addition, Ghassan also worked as a Community Mobilizer for Save the Children helping displaced children from surrounding countries locate a safe environment. In his free time, Ghassan likes to go on road trips with his wife and friends around historical sites in Jordan. Ghassan has been working with AMIDEAST since the spring of 2017. 
Alex Novelli, Director of Programs in Rabat, Morocco
Alex Novelli has served as the Director of Programs for AMIDEAST in Rabat, Morocco since January 2014, managing the Study Abroad and English Language programs. Alex has extensive experience with nonprofit management, education and training, and he has worked in Morocco, the U.S. and Spain. Alex's first experience living abroad was on a semester in Spain, during which he traveled to Morocco. To this day, crossing the Strait of Gibraltar by boat (in either direction) retains the thrill of that first voyage.
After a decade of working in marketing and nonprofit program management in New York City and Washington, D.C., Alex moved to Morocco and joined AMIDEAST as an English teacher from 2002-2003. From 2004-2006 he worked as a marketing consultant and English teacher in Madrid, Spain. 
Immediately prior to joining AMIDEAST as Director of Programs in Rabat, Alex worked in the Education and Training division of NeighborWorks America, in Washington, D.C. and as a consultant based in Morocco for Kidsave International. Now, Alex manages the day-to-day activities for the Education Abroad team and the English Language Program, and ensures the quality of programs and services offered at AMIDEAST. Novelli earned his Master's degree in 2007 in Teaching from the University of Maryland University College, and he holds a B.A. in History with a minor in Spanish from the University of Pennsylvania. 
Dr. Rachid Touhtou, Academic Coordinator and Professor in Rabat, Morocco
Dr. Rachid Touhtou earned his first Master's degree in 1999 in Teaching Pedagogies, Applied Linguistics, and English as a Foreign Language Teaching from the École Normale Supérieure in Rabat. His second master's degree was earned in 2003 in Gender Studies, Linguistics, and Development Studies from the Sidi Mohamed Ibn Abdellah University (Fez) and the Free University of Amsterdam's Cultural Studies Department. From the same university, he attained a PhD in Gender and Development Studies. Dr. Touhtou began his professional career as an Assistant Professor at the National School of Statistics and Applied Economics in Rabat in 2008, which he continues to teach. From 2010-2012, he was the Department Head of the Social Sciences, Communication, and Languages department. In 2009, he started lecturing on Civil Society, Gender, and Migration at various institutions including the Dutch Institute in Morocco, the Moroccan American Commission for Education and Cultural Exchange, and the Center for Cross Cultural Learning. Dr. Touhtou has published several publications and a book about civil society and gender dynamics in Morocco. In 2014, he was a research fellow with Arab Reform Initiative Think Tank in Paris working on research linked to volunteering and public policy in Morocco. In 2015, He was a fellow researcher in Humphrey School of Public affairs in Minnesota University in USA and in Cambridge University in the UK working on a research project related to human rights and civil society.
Doha Ait Ahmed, Program Officer for Student Services in Rabat, Morocco
Doha Ait Ahmed has extensive experience in helping students of all ages and interests discover Arabic and Moroccan culture. Her origins go back to Agadir, a city in Southern Morocco famous for its beautiful beaches and strong Amazigh (Berber) influence. Doha earned her B.A. in English from Ibnou Zouhr University, making English the fifth language she has mastered.
Doha began her profession in international education with the U.S. Peace Corps in Morocco, where she taught Tashelhit (an Amazigh dialect), coordinated homestays, and provided cross-cultural training. During this time, she also spent her summers working with youth volunteers at training and development centers in Fez. Doha joined AMIDEAST in the summer of 2008 as a group leader facilitating high school students' intercultural experience. The following semester she taught Moroccan Arabic, oversaw cross-cultural training, and organized program excursions. In 2009, after teaching and facilitating program activities, Doha expanded her expertise to include assisting with the planning and design of various Education Abroad programs at AMIDEAST. She has since held a number of roles with Education Abroad at AMIDEAST, from training new staff to supervising curriculum development to designing and leading student orientations. She also authored various texts and a book for teaching Moroccan Arabic, Darija, and compiled the Wharton Arabic Book Lauder Institute Arabic and Culture. 
In summer 2013, Doha worked as the Institute Director for Critical Language Scholarship in Rabat where she oversaw the flow of all aspects of the program: academics, language and cultural activities, and cultural excursion throughout Morocco. Currently Doha is the Program Officer for Student Services in Rabat, where she helps students adapt to Morocco and enjoy their experience abroad. She is dedicated to the expansion and continued improvement of AMIDEAST Education Abroad Programs.
Colleen Daley, Program Officer for Intercultural Learning in Rabat, Morocco
Colleen, a former Peace Corps volunteer, has a strong passion for social justice, youth engagement, languages, religious and cross-cultural dialogue.  She earned a BA in English and Faith, Peace, and Justice from Boston College, where she first came to love the MENA region as a study abroad student in Spain in 2005, and she has been traveling and living in the region ever since.  After serving in the Peace Corps in a small town outside of Marrakech, Morocco, Colleen worked on short-term exchanges for American students visiting Morocco from Spain, and led a summer-long NSLI-Y program for high-school-aged Americans learning Arabic in Marrakech. 
In 2013, Colleen completed her Master's in Intercultural Communication (ICC) at the University of Pennsylvania where she collaborated closely with faculty and students to design a new graduate level course that focuses on training design and experiential learning. Colleen continued her study of Arabic at Penn and received a Critical Language Scholarship in the summer of 2012 to study MSA and khaliji dialect for a summer in Salalah, Oman. In the summer of 2013, she spent time in Lebanon studying the shami dialect of Arabic. After graduating from Penn, Colleen worked with Global Experiences, which facilitates internships all over the world for US and international students. Colleen comes to AMIDEAST by way of CorpsAfrica/Maroc, a Moroccan non-profit designed to give young Moroccans the chance to volunteer for a year in high-poverty, rural communities in their own country. Colleen has been working with AMIDEAST since 2015.
Hind Nejbah, Homestay Coordinator in Rabat, Morocco
Hind is from the city of Benguerir in the central south of Morocco. She has a Bachelor's degree in Management and Insurance, and is working towards a Master's degree in Social Innovation and Social Economy at Hassan II University in Casablanca.
Hind first started working for AMIDEAST in October 2014 at the Rhamna Skills Center in Benguerir, setting up and supporting local programs for cooperatives and revenue-generating activities. She was also responsible for the development of training programs tailored to the needs of the targeted population, including entrepreneurial skills, financial monitoring, and developing business plans, as well as supporting the participants in the field. Prior to joining AMIDEAST, Hind worked as an insurance auditor.
Hind moved to Rabat to join the AMIDEAST Education Abroad team in December 2018 as the Home Stay Coordinator. In her free time she likes to do volunteer work, working with young entrepreneurs, and running training workshops.
Nabila Jaber, Program Specialist in Rabat, Morocco
Nabila Jaber serves as Program Specialist for Education Abroad and Exchanges at AMIDEAST Rabat. In this position she works on program development and implementation for American students, and also manages all aspects of the YES program for Moroccans going to the U.S. Prior to this position, Nabila served for six years as the Monitoring and Evaluation Assistant for AMIDEAST Morocco.
Nabila earned her B.A. in 2008 in Communication & Marketing from the Institute for Leadership and Communication Studies in Rabat. Prior to joining AMIDEAST in 2011, Nabila worked for the High Atlas Foundation as a Training Center Coordinator in Morocco. In this position she organized and coordinated logistics for training and community-based workshops in participatory development for Moroccan and American university students.
Nabila has also spent time volunteering with AIESEC Morocco, which facilitates international internships for Moroccan and international students. Nabila was an International Trainee in the Nour Program- AIESEC Netherlands during summer 2007. The Nour project attempts to foster understanding between young people from both the Middle East/North Africa region and the Netherlands. The program promotes cultural diversity and, more importantly, understanding of the similarities between different cultures. Through her previous experiences working as a Freelance Project Assistant with event management companies, Nabila has developed a strong sense of customer service, project management, and coordination.  
Amal Tahboub, Program Officer in Abu Dhabi, UAE
Amal Tahboub serves as Program Officer for AMIDEAST Education Abroad Programs in U.A.E.  Amal grew up in Doha, Qatar and has been part of a mutli-cultural society such as the expatriate community that lives in Gulf cities like Doha, Qatar.
Amal graduated from Birzeit University in Ramallah, West Bank with a Bachelor's degree in Business Administration in 2006. During her studies, she volunteered in the exchange student program office 'PAS" office at the university. She started by doing administrative work and then became interested in welcoming the new students to campus and giving them a tour around the city of Ramallah which is rich in culture and history, and helping them understand the Arabic culture, language, lifestyle and more. This passion for her international exchange led her to her current position with Education Abroad programs at AMIDEAST.