Golden Gala marks five decades of supporting young generations to win life-transforming opportunities to achieve their dreams
Beirut, Lebanon, November 30, 2018—AMIDEAST marked its 50th anniversary in Lebanon with a gala dinner at the Seaside Pavilion, Beirut New Waterfront, on the evening of November 29. The Golden Gala provided a wonderful opportunity to mark the organization's achievements and raise awareness about of the extensive work carried out by AMIDEAST/Lebanon over the past five decades, while helping to raise funds for future programs to benefit Lebanon's youth.
Washington, DC, and Kuwait City, Kuwait, November 28, 2018 — AMIDEAST is pleased to join with U.S. aerospace company Boeing to launch a new program entitled, "Coding for Kids," to teach young learners in Kuwait to code.
Princeton, N.J. (April 30, 2018) — The TOEFL® iBT test is the best, most accurate way for English language teachers to show their English proficiency. The test is also more convenient and less expensive than some options, and with free, online, comprehensive test prep, preparing to take the test is easy. Visit https://ien.edu.sa to purchase a test voucher today.
The Kingdom of Saudi Arabia Ministry of Education announced this week that the TOEFL iBT test is one of the approved assessments that English teachers can take to show their English language skills. The effort, which will include both assessment and training initiatives, is part of the government's 2030 vision, which includes a number of programs and initiatives aimed at developing KSA into an exemplary and leading nation.
Accepting Applications Now
Washington, DC, and Beirut, Lebanon, December 28, 2017—AMIDEAST and the Citi Foundation proudly announce the launching of the "Skills for Success®: Employability and Entrepreneurship Program" in a two-year partnership aimed at providing economic opportunities impacting more than 600 youth in Lebanon.
The program, part of the Citi Foundation's global Pathways to Progress initiative will focus on building a new generation of entrepreneurs and work-ready youth by helping them gain skills needed to succeed in the job market, and for those with entrepreneurial potential, to get their business ideas off the ground to found their own businesses. 
Washington, DC, and Kuwait City, Kuwait, November 19, 2017 – AMIDEAST and The Boeing Company are pleased to announce the launch of a college readiness program that will prepare Kuwaiti students for the competitive academic and professional worlds.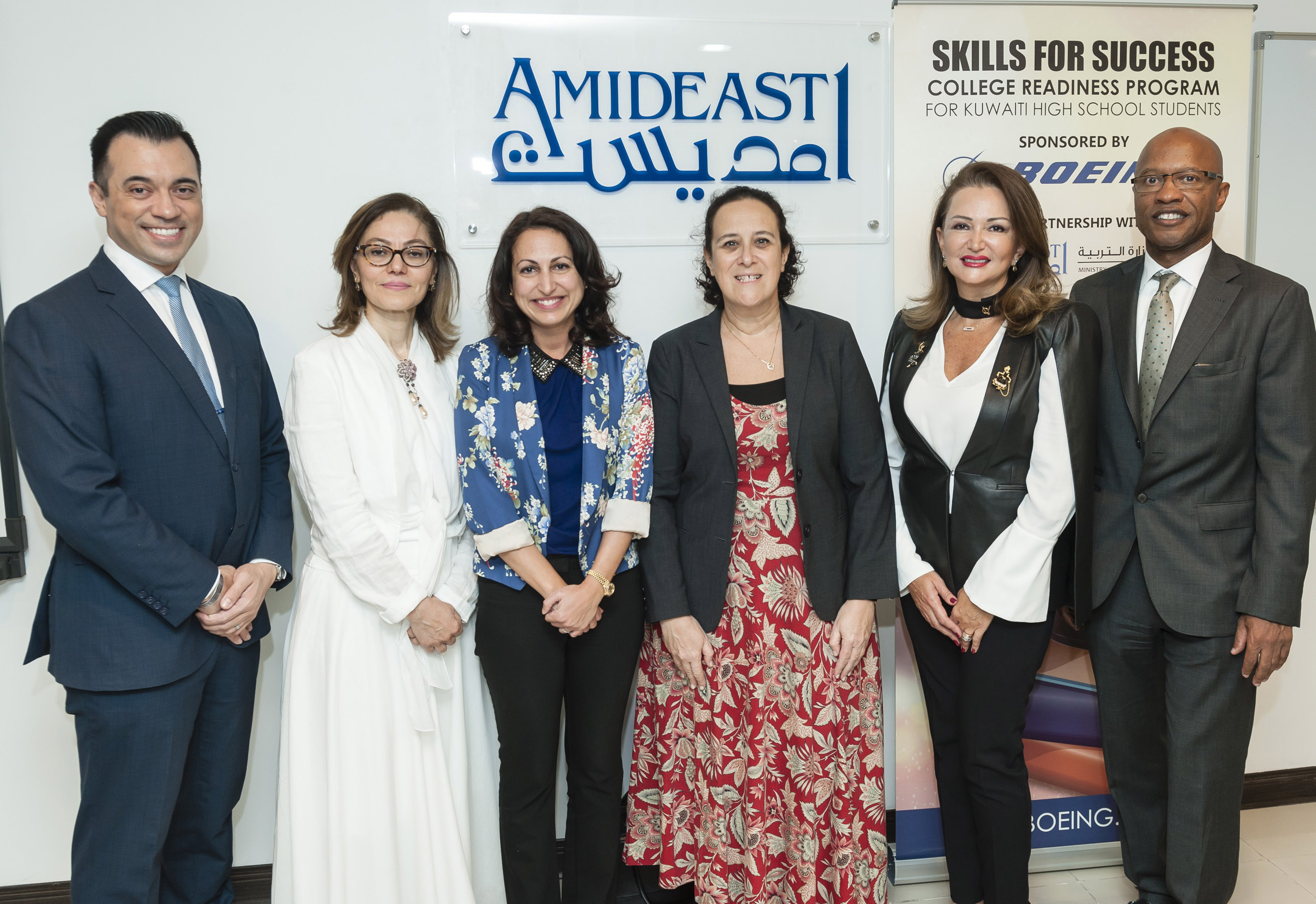 The new "Skills for Success®—College Readiness Program" is a high-impact educational opportunity that focuses on developing key academic and 21st-century skills that inspire critical thinking and problem solving. Thirty-two bright high-school students in grades 9 to 12 were selected from government schools to participate in the program, which will continue until April 2018.
Washington, DC, and Beirut, Lebanon, August 15, 2017 — Lebanese philanthropist and entrepreneur Maroun Semaan will be posthumously honored for his significant contributions to the advancement of education at the AMIDEAST Award Gala in Beverly Hills on October 14, 2017.  Mr. Semaan is the first recipient of the AMIDEAST Education Hero Award, an honor established by AMIDEAST to recognize individuals for their exemplary dedication to improving education in Lebanon.
Washington, DC, and Beirut, Lebanon, August 1, 2017 — AMIDEAST has announced that it is joining with the AMIDEAST/Lebanon Advisory Board to host the first AMIDEAST Education Hero Award Gala on October 14, 2017, in Beverly Hills, California. Headlining the evening of elegance and excellence for more than 700 guests will be Lebanese celebrities in media and music who share AMIDEAST's education mission.
As the Syrian civil war continues to drag on with no end in sight, AMIDEAST is pleased to host a panel of distinguished experts in Washington, D.C., on February 9 to discuss what this conflict means for the Syrian people, American foreign policy in the Trump administration, and the international community at large.
Washington, DC, and Cairo, Egypt, December 7, 2016―AMIDEAST/Egypt and Citi Foundation have announced the launch of the Youth Entrepreneurship Program, a two-year partnership aimed at providing economic opportunities that will directly impact 40 aspiring young Egyptian entrepreneurs and further benefit as many as 600 other youth.
The program will focus on building a new generation of entrepreneurs by helping them to get their business ideas off the ground. AMIDEAST is now accepting application online through its webpage, www.amideast-yep.org, until January 31, 2017.
.
Washington, DC, October 21, 2016 – AMIDEAST is pleased to announce that it has signed a Memorandum of Understanding (MOU) with the Mohammed bin Rashid Al Maktoum Foundation (MBRF). The agreement, which was signed during GITEX Technology Week 2016 in Dubai, aims to strengthen cooperation between the two parties and coordinate their joint efforts to serve the community. 
"MBRF and AMIDEAST will explore initiatives and sustainable programs to enhance R & D to establish a new generation of scientists, thinkers and researchers in line with the UAE National Agenda 2021," MBRF said in a statement issued following the signing.
Pages