March 8, 2017 — Today, AMIDEAST joins the global community in celebrating International Women's Day, an annual event dedicated to promoting gender equality and inclusivity by highlighting notable achievements of women in various fields. AMIDEAST is committed to empowering women throughout the Middle East and North Africa by expanding educational and training opportunities that can lead to personal and career success. We are proud to say that our efforts are making a difference—in 2016, women comprised more than half of all students participating in our educational exchange and scholarship programs, and 350 women received employability skills training tailored to help women overcome gender barriers to employment. Take a look at any of our programs throughout the MENA region, and you will find talented women showcasing their intelligence, creativity, and determination. Here are just a few of our most notable stories from the past year: 
Amira studies law at Mansoura University thanks to a scholarship through the U.S.-Egypt Higher Education Initiative (HEI), a USAID-funded program that provides opportunities for undergraduate study at Egypt's public universities. One of three blind students currently in the HEI program, Amira is challenging herself daily to increase her independence and confidence while pursuing her long-term goal of defending the rights of the poor and underserved members of society.
To date, 495 women in Egypt, Jordan, Lebanon, and Morocco have completed AMIDEAST's Skills for Success® program. Many have since found jobs, started internships, considered starting a business, or returned to school. A surprising outcome, in fact, is that over 40 percent of the graduates across three countries have decided to continue their studies, at university or elsewhere, because of the new-found confidence and determination that they gained in the program. 
No wonder, then, that the two-year-old program featured prominently at the Union for the Mediterranean (UfM)'s recent high-level conference, "Women for the Mediterranean: Driving Force for Development and Stability." The assembled ministers, experts, and representatives of international organizations, civil society, and NGOs identified employment creation as key to strengthening the role of women as agents of change for the MENA region.
Washington, DC, May 14, 2015—AMIDEAST was pleased to announce at last week's Clinton Global Initiative (CGI) Middle East & Africa Meeting its Commitment to Action to implement a training program that will transform the teaching of English in Morocco's schools. The commitment will help Morocco meet the need for English speakers who are critical to sustaining growth in key economic sectors such as tourism, international trade, and logistics, and in its technology industry.
Under the commitment, AMIDEAST will work closely with the Moroccan National Ministry of Education to provide 240 Moroccan public school English teachers, supervisors, and inspectors with training through an internationally recognized certification program for teaching English as a second language. AMIDEAST will also certify 12 licensed trainers so that the Ministry of Education can continue to provide this high-quality certification to the remainder of the country's 7,500 public school English teachers.
The AMIDEAST board of directors meets periodically in the region. This year, the choice of Morocco was clear. New partnerships are enabling AMIDEAST to build its capacity to meet the country's growing needs for education and training. In the 35 years since it opened its doors in Morocco, AMIDEAST has developed a solid core of activities — educational advising and testing, scholarship programs, and English language training — at its main office in Rabat and its 10-year-old facility in Casablanca. Today it is moving beyond these urban centers with new programs to tackle youth unemployment and expand economic opportunity for women, all the while developing a robust study abroad program for Americans.
New Initiatives Benefit Youth and Women
Enrollments at AMIDEAST training centers in Rabat and Casablanca office have averaged around 10,000 in recent years, driven by the growing interest in English in the Francophone country and the need for specialized professional skills training. These numbers are beginning to rise as AMIDEAST/Morocco embarks on new initiatives targeting the country's youth unemployment challenge.
On a recent visit to Morocco, AMIDEAST President and CEO Theodore Kattouf visited the Rhamna Skills Center in Benguerir, which offers a mix of skills training and other activities designed to expand youth opportunity in this central Moroccan city and surrounding Rhamna Province. 
Since Rhamna Skills was inaugurated in November 2012, close to 750 youths have completed the center's employability skills training programs, leading to job placements for more than three out of five trainees — meeting a high priority in view of the country's high unemployment rates, particularly among recent graduates.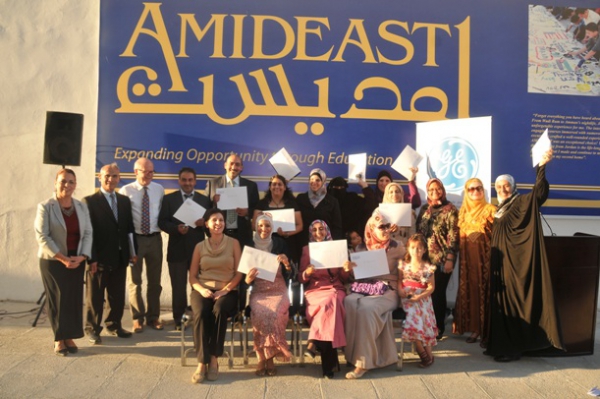 PCELT graduates in Jordan proudly display their certificates of completion.
Washington, DC, and Dubai, UAE, May 14, 2014—GE Foundation, the philanthropic organization of GE (NYSE: GE), which focuses its efforts in the areas of health, education, the environment and disaster relief, has joined hands with the American educational organization AMIDEAST, to offer the Professional Certificate in English Language Teaching (PCELT) program for English language teachers in the Middle East and North Africa (MENA) region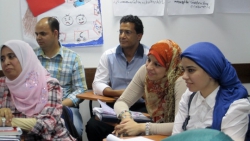 Launched in 2012, the program is offered by AMIDEAST in partnership with the World Learning/SIT Graduate Institute and aims at raising the overall standards for teaching English in the region's schools and universities by providing candidates with an innovative approach and curriculum that combines international best practices and topics relevant to the region.
AMIDEAST ranked seventh among providers of study abroad programs for Americans and its Area & Arabic Language Studies Program in Rabat, Morocco, was rated fifth among single programs in the latest worldwide annual rankings issued by Abroad101, the oldest and largest study abroad review website. 
Abroad101's "2013 Study Abroad Rankings" rated AMIDEAST's Education Abroad Programs in the Arab World on the basis of its 18 programs in Egypt, Jordan, Morocco, Oman, and Tunisia, which offer study and intensive language options.  They received an overall score of 4.6 out of 5, while its Rabat program received "five stars" from 19 out of 22 reviewers.
A strategic new partnership with the Union for the Mediterranean (UfM) is about to expand AMIDEAST's efforts to advance the economic empowerment of women in the Middle East and North Africa.  AMIDEAST will soon offer "Skills for Success—Employability Skills for Women" in Jordan and Morocco with funding from the Norwegian government and the Flemish Department of Foreign Affairs. Implementation in Egypt, Lebanon, and Tunisia will follow, with a total of 450 women — 90 in each of the five countries — to be trained.  Endorsed by the UfM as a key component of its strategy to improve the socioeconomic situation of women in the Euro-Mediterranean region, the initiative was formally launched during the UfM's Women's Socio-Economic Empowerment: Projects for Progress conference, held March 26–27 at its Barcelona headquarters. 
High unemployment rates among youth in the Middle East and North Africa have attracted much attention. Less talked about is unemployment among the region's young women—at 42 percent, nearly double the rate for young men — as well as the labor participation rate for women, which, at 25 percent, is the lowest in the world. Together, such indicators translate into a lack of economic opportunities that leaves young Arab women vulnerable to social and economic inequality.
Washington, DC, March 26, 2014—AMIDEAST is pleased to announce the launch of a new partnership with the Union for the Mediterranean (UfM) to provide employability skills training in Egypt, Jordan, Lebanon, Morocco, and Tunisia. "Skills for Success–Employability Skills for Women" will specifically target disadvantaged women who have completed secondary school with training designed to improve their ability to enter and succeed in the workforce.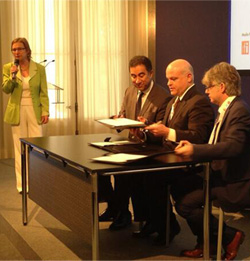 The launch of Skills for Success took place during the UfM's "Women's Socio-economic Empowerment: Projects for Progress" conference at its Barcelona headquarters on March 26-27, 2014. It included a formal signing of the agreement between AMIDEAST, the UfM, and the Flemish Department of Foreign Affairs, which will add to funds already provided for the program by the government of Norway.
Pages