Located on the Atlantic Coast, Rabat is one of Morocco's imperial cities as well as its political capital. Rabat exemplifies Morocco's unique cultural blend of Arab, the indigenous Amazigh (Berber), and European influences. While downtown Rabat is home to the austere Parliament building and the King's Palace, just a few blocks away is the old medina; a fortressed city with labarinth alleys, markets, shops, and restaurants. Further down the road is the UNESCO World Heritage site of the Kasbah of the Udayas and the Bou Regreg River, with some of the best views of Rabat and the neighboring city of Salé. Al-Maghrib is a language enthusiast's dream as Moroccans speak multiple languages-typically including Moroccan Arabic, Modern Standard Arabic, and French, as well as possibly an indigenous language (such as Tamazight, Tashleheit, or Tarifit), English, or Spanish. Famous for national dishes like couscous, tajine, and harira, Moroccan cuisine is nothing short of mouth-wateringly delicious. Despite the pervasiveness of Western influences, Amazigh and Arab identity continue to play a crucial role in Morocco's traditional, yet, modern society.

After achieving independence in 1956, Morocco became a constitutional monarchy and has been ruled by three successive Alaouite kings over the past 55+ years. Throughout his reign, the current king (Mohammed VI) has taken steps to reform the political, economic, and legal structures of Morocco. While the influence of the Arab Spring on this North African country is not as deep as elsewhere in the Arab world, Moroccans are increasingly engaged in the political arena and are pushing for reform in the areas of corruption and political representation. A growing civil society also plays a role in pushing for the rights of Moroccan women as well as minority groups in Morocco. Despite the efforts made by the King and the government, Morocco still faces many contemporary challenges. Among these challenges are youth unemployment, lagging economic growth, an education system that struggles to meet the nation's needs, growing calls for greater rights for women and the Amazigh population, and demands for a more democratic state. Without a doubt, it is Morocco's natural beauty, historical appeal, and friendly citizens which draw visitors from all over the globe. From the twisting streets of the medina to the French-inspired cafés, studying in Morocco exposes students to a deeply traditional society strongly influenced by growing globalization.

The AMIDEAST Education Abroad Program in Rabat offers a diverse set of courses, and semi-intensive instruction in Modern Standard Arabic and Moroccan Arabic. Students in the program live with Arabic-speaking Moroccan families and attend classes at AMIDEAST's facilities in the lively Agdal area of the city. Courses are taught by English-speaking Moroccan faculty members from AMIDEAST's partner, the College of Letters and Humanities of Mohammed V University – Agdal, and other universities in Rabat and neighboring cities.
 
In addition to academics, students benefit from the following program components:
• an opportunity to live with a Moroccan family
• structured ways to meet local students
• volunteer and service-learning opportunities
• organized excursions to exciting locations around Morocco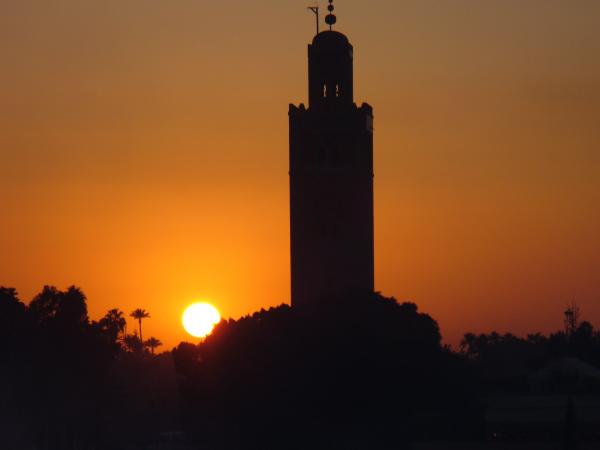 Academic Information
Students in the AMIDEAST Education Abroad Program in Rabat carry a 14-17 credit hour course load per semester. All students enroll in Arabic (8 credits: Modern Standard and Moroccan Colloquial Arabic) and two or three other elective courses (depending on the student's preference) from offerings in Middle East and North African studies in a variety of disciplines taught in English including political science, religion, sociology, women's studies, history, and Amazigh studies. Students must have the equivalent of four college semesters of French or more in order to take a French course. All courses are taught exclusively for the AMIDEAST program, and students take classes only with other program participants.